Using a fleet management system can help your company achieve increased levels of operational efficiency. However, the use of necessary global positioning satellite (GPS)-based tracking devices can be limited by the size of the asset or equipment that you are trying to track or monitor.
What if we were to tell you that this operational limitation is no longer a limitation at all? With RastracGo, our latest GPS portable asset tracking device that integrates with your existing fleet management and asset tracking software, you can conveniently track and monitor your assets regardless of size. Whether it's a large shipping container, a small but valuable pharmaceutical package, or even a simple envelope, our credit card sized device fits wherever you need it to go.
Rastrac's newest technology can play a role in helping your business to meet the five foundational pillars of operational excellence. It can help you monitor behaviors to improve safety, gain actionable data to help you to establish consistent policies and standards, adopt modern technology that integrates with your existing systems, increase your monitoring capabilities, and ultimately, put more money in the bank.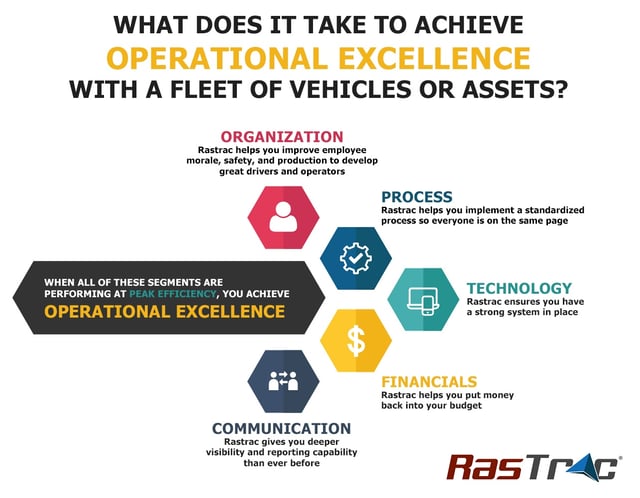 So how exactly can this sliver of technology help your company trim costs and save money? Let's explore a few of the ways that RastracGo can maximize your return on investment (ROI).
Enhance Your Asset Tracking Capabilities
A benefit of using asset tracking or fleet management software is that you know where your assets or equipment are located at all times. With RastracGo, the device is so compact, lightweight and portable, it can literally attach to a keychain or a necklace due to its convenient keyring design.
So long as service is available via cell towers, GPS, or wi-fi, RastracGo can track your devices anywhere in the world. Each card is equipped with a Subscriber Information Module (SIM) card port, which enables your device to communicate via cell towers, and a GT-200 tracking module.
Decrease Damage to Your Assets Due to Mishandling
If you're concerned about products or assets being jostled around or stored in inappropriate temperatures during transport, worry no more! RastracGo is your easy-to-use solution. The device comes equipped with sensors that can detect acceleration, humidity, light, noise, pressure, and temperature. This provides you with timely, actionable data about the conditions in which your assets are traveling and whether temperature-sensitive pharmaceuticals are being properly transported and fragile packages are being handled with care.
Maximize Efficiency of Your Assets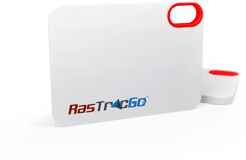 We're certain most fleet operations managers want to maximize the use of their assets to ensure they're being as productive as possible and to enhance their company's overall bottom line and profitability. You're likely no different. Because RastracGo integrates with fleet management and asset management software, you can ensure that your equipment is achieving optimal use and reduce equipment downtime.
Learn More About the Device



Cut Unnecessary Transportation Costs
Wouldn't it be great if there was a way to make your drivers' travel routes more efficient and to decrease their use of fuel? We're proud to say, there is! RastracGo uses your existing fleet management tracking software, allowing you to optimize your driving routes or reroute drivers based on inclement weather, traffic accidents, or other hazardous driving conditions. As a result, this helps to decrease the amount of time that your drivers spend needlessly idling in traffic.
Reduce Loss Due to Theft
In general, GPS technology is an incredible asset in not only deterring theft but aiding in the recovery of stolen assets, vehicles, or other high-value equipment. By tracking the conditions and locations of your assets, even during non-business hours, you can proactively prevent a costly disaster or aid police by providing valuable data.
Improve Your Use of Time
We're sure that you'll agree that while the above cost-saving benefits of using a RastracGo device sound great, the greatest benefit will be making sure that your time each day will be spent more efficiently. By enhancing your asset monitoring and tracking capabilities and putting the information you need at your fingertips, you can spend more time focusing on other important functions. And that, from our experience, is invaluable.
Rastrac is an industry leader in GPS fleet tracking and asset management. If you have questions about how RastracGo can enhance your operational efficiency, connect with us today.
Like what you're reading? Subscribe to our blog.
Get our latest posts straight to you inbox.