Every day, transportation companies are entrusted with the safe passage of cargo. A fully-loaded trailer can carry hundreds of thousands, even millions, of dollars' worth of cargo. Add to this the sizeable value of the semi-truck itself, and you have a very tempting target for thieves.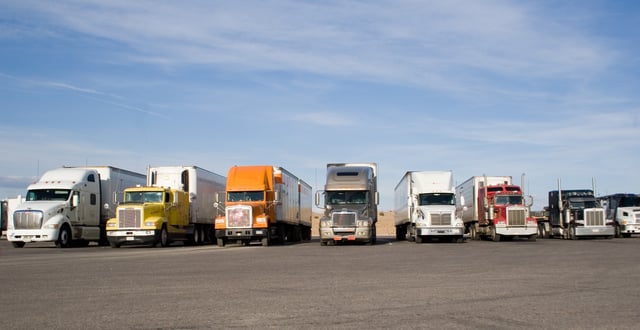 This ever-present risk of theft has driven many companies handling high-value shipments to use strong anti-theft measures, but what about shipments of less valuable goods? As it turns out, many companies handling lower-value shipments may need to start adding more protective measures to their own vehicles and shipments.
Rising Thefts, But Falling Values
Recently, truckinginfo.com released a story about how truck cargo thefts are on the rise in 2016. According to the article, Q1 2016 saw "a total of 221 cargo thefts, an increase of 13% from the fourth quarter of 2015 and up 8% compared to the first quarter of last year."
Surprisingly, the actual value of each theft has dropped a bit on average. According to statistics cited in the Trucking Info article, "the average loss value per incident fell to $112,467, down 13% from the previous quarter and a 56% decline from a year earlier."
Why the shift to hitting more targets with lower values? The article suggests that "thieves have learned to avoid risk by targeting lower value shipments that have less security procedures in place."
With thieves targeting shipments with a lower total value, the time is right for transportation companies that move loads such as food, drink, clothing, and other lower-cost goods to start implementing stronger anti-theft measures.
Protecting Trucks, Trailers, and Cargo with GPS Tracking Systems
According to the article, full truckload thefts accounted for "83% of all reported thefts." The fastest way to accomplish such a theft is to either hook up the trailer to a new truck and carry it off, or to hijack the entire truck.
This can make the use of tracking fleet vehicles with GPS tracking devices one of your most powerful antitheft options.
How so?
Depending on the type of GPS tracking solution you use, you can:
Use truck tracking for the location of stolen trucks/trailers.
Log trailer door open/close events.
Remotely disable vehicle starters.
Get alerts when trailers are disconnected from truck power sources.
Create alerts for when trucks leave their designated route.
These capabilities each enhance your ability to prevent theft and recover lost cargo in different ways.
Logging events such as trailers being disconnected/opened at unusual times or leaving their assigned routes can provide an early warning of theft attempts in progress. Using remote starter disable keeps thieves from starting the vehicle.
Having the current or most recent position data can aid in recovery efforts by allowing you to guide law enforcement to the location of your stolen equipment. This reduces the time it takes to find the cargo, increasing the likelihood of recovering your assets intact.
With the recent trend of thieves making more attacks against lower-value cargo shipments, it's more important than ever to ensure that your assets are protected. Fleet vehicle tracking devices and software just happen to be one of the most effective tools for fighting theft.
Like what you're reading? Subscribe to our blog.
Get our latest posts straight to you inbox.