It's no secret that fleet and asset managers in the oil and gas industry need to be among the world's best multitaskers. In addition to being a master of time management and organizational skills, you also need to be resourceful enough to make your oil and gas company more efficient and your operations more effective with fewer resources. These responsibilities include the tracking and monitoring of its oil and gas inventory, including vehicles, equipment, and other various assets.
Oil and gas equipment monitoring is a process that the right GPS tracking system can simplify. An agile and efficient fleet tracking system or asset tracking solution can:
Save you time and energy,
Increase reporting accuracy,
Help your oil and gas inventory of vehicles and equipment up to date, and
Increase fleet and operational efficiency.
What are some of the solutions that can make for more accurate and efficient oil and gas inventory tracking for oil and gas companies?
How GPS for Oil Improves Oil and Gas Inventory Tracking
Remote Monitoring of Vehicles in the Field
Need to know where supplies or products are at any given moment? Or, is one of your drivers way behind schedule and delaying your oil and gas company operations?
With GPS fleet tracking, you no longer have to make calls to drivers or operators for location updates or to check on the condition of their vehicles. With oil and gas inventory tracking solutions from Rastrac, you can get real-time alerts and notifications concerning a variety of factors, including:
Vehicle arrival and departure times,
Locations,
Preventative maintenance to keep vehicles in optimal condition.
Tracking & Monitoring Stationary Equipment Locations
Although tracking fleet vehicles and other mobile equipment is the first thing that frequently comes to mind when people talk about GPS asset tracking, mobile assets aren't the only thing that GPS technology can track. These oil and gas inventory tracking capabilities also extend to the tracking and monitoring of the conditions and locations of stationary equipment.
Solar or battery-powered GPS tracking devices are useful for long-term tracking. Some suitable devices for long-term tracking include the XT-4970 equipment tracking device, which is a solar-operated device that can be attached virtually anywhere it can receive sunlight, or the TTU-700 unit, which has settings that can extend the battery life for up to seven years.
Oil and Gas Equipment Monitoring of On-Site Stationary Tanks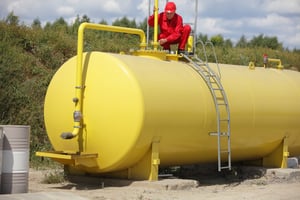 As we mentioned earlier, there is more to monitoring equipment than just knowing where they are located. With the right equipment tracking devices, you can monitor the conditions of your oil and gas inventory assets easily and efficiently.
One of the benefits of using remote monitoring is that you can set alerts to notify you when your equipment levels meet your thresholds. Some of the things you can remotely monitor concerning your oil and gas inventory include:
Equipment performance
Temperatures
Tank levels
Flow rates
Vehicle Fleet Management Software That Uses Custom Maps
An issue that many fleet and asset managers (as well drivers) run into concerning oil and gas inventory tracking is the inability to perform accurate off-road tracking or to find roads in remote areas. This can be a major issue for oil and gas companies whose drivers are then delayed when they get turned around or find themselves on roads that aren't built for vehicles of their size.
With Rastrac's innovative vehicle fleet management software, you can use standard maps or upload your own maps to help fill in for any missing or remote areas. This is just one of many customization features that Rastrac's vehicle fleet management software allows due to our advanced application programming interface (API).
Rastrac is a worldwide provider of GPS-based fleet and asset management tools for companies and organizations in a variety of industries, including oil and gas companies. We offer many tools and solutions that will enhance your oil and gas inventory tracking capabilities.
To learn more about how Rastrac's GPS fleet tracking and asset management solutions can improve your oil and gas fleet management capabilities, click on the link below to receive our complimentary oil and gas industry resource.
Like what you're reading? Subscribe to our blog.
Get our latest posts straight to your inbox.