Running an executive fleet or executive car service is a responsibility that requires keen attention to detail, driver timeliness and professionalism, and providing the best possible quality of customer service for your high-level clients. Managing an executive fleet is different from managing a conventional vehicle fleet—frequently requiring a lot more time and interfacing with c-level executives. As such, you need a tool at your disposal that can help you provide better service, reduce costs, and mitigate vehicle breakdowns by keeping your executive vehicles running in the best possible condition.
Fleet management telematics tools and services can provide you with greater visibility into the operations of your fleet, as well as the conditions of your vehicles and how safely your fleet drivers operate them. Now frequently known under the banner of fleet management, these fleet telematics solutions are essential to helping fleet managers make informed decisions rather than "flying blind" as fleet managers did with their executive fleets in the past.
Here are some of the ways that an effective fleet management system can help to optimize the operations of your executive car service.
Reduce Overhead by Cutting Vehicle Repair & Fuel Costs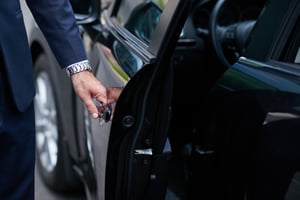 One of the most significant advantages of using a reliable and agile vehicle tracking system is that you can remotely monitor the condition of your executive vehicles. You can receive automated reports that detail each vehicle's engine performance. Effective fleet management software also gives you access to information about the vehicle when you need it through the software dashboard.
With this tool, you can track each executive fleet vehicle's preventative maintenance schedule to ensure maintenance stays on track by ensuring that specific tasks are performed, including:
Parts replacement scheduling
Tire wear monitoring and rotation
Fluid replacements
Minor repairs
Other routine maintenance tasks
This capability enables you to not only stay ahead of the game when it comes to being able to stave off expensive repairs, but it also makes you look good to the client as well. By having the ability to recognize and address many problems with an executive car, for example, you can address the issues before the executive takes another drive and suddenly finds themselves broken down on the side of the road.
It makes no matter whether your fleet allows executives to drive executive vehicles themselves as part of their position's compensation plan, or if you operate as a fleet service that provides a driver to chauffeur them around in an executive fleet car. It's a win for them and a win for your executive fleet service or executive fleet as well.
Other Cost Saving Methods for Executive Fleets
Another way to save on operating costs of an executive fleet is by reducing the labor hours needed to handle administrative tasks that your fleet management software's automated reporting capabilities can manage.
Additionally, using your executive vehicle tracking devices, you can track and evaluate the option of whether it is most cost-effective to store your executive fleet vehicles in a garage each night or allow some drivers to take them home at the end of the day. By evaluating your commuting policy with GPS fleet tracking data, you can more effectively weigh the costs and benefits of vehicle storage versus commuting costs for employees.
For example, if you were to evaluate the geographic locations of where your drivers live and where their assigned driving typically occurs, it may be more cost-effective to allow them to drive their vehicle home and return to the same assigned location the next day rather than wasting money, time, gas, and vehicle mileage on returning and retrieving the vehicle from a storage garage.
Boost Productivity by Reducing the Time Spent in Traffic
When someone hires an executive car service, they are looking not only for a comfortable and luxurious ride; they also are looking for someone who can get them where they need to go on time. Thankfully, a fleet management system can help you track where your vehicles are at any given time as well as help you assign a less congested route to your executive car driver as well. Not only does this save your client valuable time and frustration in traffic, but it also can help to save your executive vehicle from:
Unnecessary wear and tear or engine idling, which helps to reduce vehicle costs;
Unnecessary fuel consumption costs; and
Being at risk of an accident in bumper-to-bumper traffic conditions.
Have More Information for Vehicle Lifecycle Decisions
Vehicle replacement is an essential component of operating a strong executive fleet. When you have an aging fleet, it can result in both higher preventative maintenance costs and reactive repair costs. If you hold off on selling it, you also miss out on any potential resale value. These are just some of the reasons why vehicle resale is necessary and should not be avoided.
By having access to automatic reports about the preventative maintenance and repair costs for each vehicle, you can make informed decisions about prioritizing which vehicles need to be replaced first.
Don't hold off on optimizing your executive car service or executive fleet with a reliable and trustworthy fleet management service provider. Rastrac is an innovator and leader in fleet management and executive fleet telematics solutions. Our team of fleet tracking and management experts are here to answer your questions and to provide you with valuable resources and information you need.
We've put together a complimentary resource on executive fleets that you can download by clicking on the link below.
Like what you're reading? Subscribe to our blog.
Get our latest posts straight to you inbox.