Being in charge of a vehicle fleet for a large company is no easy task, we know. The paperwork generated by a single company vehicle can be time-consuming to manage, let alone an entire fleet of vehicles that have to deal with rules and regulations for multiple states or countries.
Between handling IFTA tax forms, vehicle/driver certifications, inspections, maintenance, and just general route planning, the hassles of dealing with a large fleet can seem endless. Whether you're managing an executive fleet of luxury cars, a transportation fleet of big rigs and reefer trucks, a construction fleet of heavy vehicles, or a localized fleet of municipal service vehicles, there is always a high demand for efficiency—to get more done with less.
How can you ensure that your vehicle fleet is as effective and efficient as possible? In this article, we'll go over:
What Makes an Efficient and Effective Fleet Manager?
There are many factors that can contribute to efficiency for a fleet manager, including the tools that they use to manage their vehicle fleet. However, beyond training and tools, the habits and behaviors of fleet managers rank among the most important factors separating great fleet managers from the rest.
Over the years, we've had the chance to work with a lot of fleet managers, and here are some of the behaviors we've noticed among the best of them:
1: They Have an Eagerness to Learn
The tools available to fleet managers are constantly changing and evolving, as are the regulations that govern many vehicle fleets. Many of the best fleet managers aren't just willing to learn—they're eager to learn.
A thirst for knowledge and how things can be done better drives these eager managers to find new ways to increase efficiency. Eager-to-learn fleet managers will find that solution their company needs faster and master it sooner than those who are not actively looking to learn.
2: They Pay Attention to Details
It's often said that the "devil is in the details," and this holds true for fleet management—especially in larger vehicle fleets. The impact of "minor" issues such as personal use of company vehicles, excessive idling, and adherence to optimal driving speed can be massive. These so-called minor issues chip away at the fleet's fuel efficiency, resulting in massive losses over time.
Tracking the statistics for the whole vehicle fleet to spot inconsistencies arising from "minor" issues helps great fleet managers find opportunities for improving efficiency.
3: They Set Boundaries for Their Management
As important as it is to monitor details to improve efficiency and even safety for the vehicle fleet, the best managers know where to draw the line with the micromanagement of details.
Few things kill commitment and productivity like being squashed under someone else's thumb. Great fleet managers understand the risks of becoming a micromanager, and can avoid them even as they eliminate wasteful driving habits.
4: They Demonstrate Care for Employees
In vehicle fleets where long-distance driving is a common occurrence, paying attention to the health and well-being of drivers is critical. As noted in the Federal Motor Carrier Safety Administration's (FMCSA's) Large Truck Crash Causation Study, driver non-performance was the direct cause of approximately 9,000 large truck crashes over a two-year period.
The study defines non-performance as "the driver fell asleep, was disabled by a heart attack or seizure, or was physically impaired for another reason." While a distant third to inattentiveness (22,000) and poor driving decisions (30,000), non-performance caused by fatigue, illness, and injury is still a major concern.
Efficient fleet managers care about their drivers, making a note of when they may be pushing themselves too hard and stepping in when necessary to keep drivers healthy and safe. An eight-hour delay for a driver to get some sleep is vastly preferable to a late-night crash caused by an exhausted driver.
5: They Frequently Communicate with Drivers
Above all, the thing that we've seen great fleet managers do is communicate with their drivers in the field. Frequent communication is the key to keeping drivers on-task and productive in any industry.
Communicating with drivers helps not only improve efficiency, it helps fleet managers build a rapport with drivers.
The Top Eight Things a Fleet Operations Manager Should Know
When you're managing a fleet of any size, the job comes with a multitude of responsibilities and challenges. As a fleet operations manager, you must try to find ways to be more efficient, cut costs, and reduce risks to your operations. This means that there are several key pieces of information you always need to know (or can quickly find out).
1. Where Your Fleet Assets Are (at All Times)
At the most basic level, every fleet operations manager needs to know the locations of their fleet assets. Thankfully, GPS tracking isn't just for vehicles anymore. Whether it's a rig that's on route to make deliveries, heavy construction equipment that's in the field, or a piece of equipment that's rented out to a third party, you can track the locations of these assets at any given time.
Using GPS tracking devices and fleet management software, you can access that information anytime and anywhere from your computer or mobile device. You can discover where each asset is and who is operating it.
2. How Well Your Drivers Perform in the Field
As a fleet operations manager, you're ultimately responsible for the safe operations of your fleet and drivers. This can be difficult to manage, as you're in the office and your drivers are out in the field — perhaps even in other states. So, how can you stay abreast of driver behaviors? You can accomplish this feat through the combined use of GPS trackers and reliable tracking software.
Many modern GPS devices are able to tap into a vehicle's onboard diagnostics system. This allows you to oversee not only the performance of each vehicle but also how it is being operated. For example, you can monitor a number of behaviors, including:
Driving speeds
RPM
Speed and frequency of turns
Vehicle mileage
Rapid acceleration and harsh braking
3. If Drivers Adhere to Their Delivery Schedules and Assigned Routes
As a fleet operations manager, you obviously want to ensure that deliveries arrive on time. Not only is this just a good general business practice, it also helps to guarantee that you provide the best possible service to your customers. But, what can you do to confirm that deliveries are on schedule?
Vehicles equipped with GPS tracking devices can be monitored using the integrated Google map and another helpful Rastrac software tool: geofencing. Geofencing enables you to delineate specific areas on a virtual map that correspond with real-world geographic locations. When one of your tagged assets either enters or leaves that marked area, you'll receive an instant alert via e-mail or text message.
As the fleet management service provider for numerous companies worldwide, we understand the needs of fleet managers and drivers alike. Many drivers — particularly long-distance truckers — need to be able to go off route to rest or to refuel their vehicles. As such, you can set up your geofences in different shapes, sizes, and borders to accommodate these route deviations.
4. The Efficiency Level of Your Operations
At the end of the day, time is money. You want to make sure that you and your drivers are maximizing your fleet's overall productivity through the use of both time and its assets. This means reducing wasteful and costly behaviors and activities, including:
Tracking assets that can be automatically tracked.
Spending time manually creating reports that can be automatically generated.
Experiencing equipment downtime by not keeping up with regular fleet maintenance.
Allowing engines to idle frequently, increasing unnecessary use of fleet vehicles.
Inefficient driver behaviors, such as rapid acceleration and deceleration that increase wear and tear on the vehicles.
5. The Condition of Your Fleet Vehicles and Equipment
A huge benefit of using a reliable fleet tracking device is that you can track and automatically record different events and asset use information, including:
Asset activation
Asset location
Door opening/closing
Hours of use
Motion
Temperature
No matter what kind of vehicles or equipment you're tracking, having access to these types of data gives you increased control of your assets in the field.
6. Any Manufacturer Technical Service and Recall Updates
Are you up-to-date on the latest manufacturer technical service bulletins and recall updates? You should be. When massive or even small recalls are released, it's important to remain informed to ensure that your fleet vehicles are quickly taken care of. Even seemingly minor safety recalls could lead to devastating (and costly) results should even one of your fleet vehicles become involved in an accident.
When you become aware of these recalls, you can easily use Rastrac's intuitive software to schedule repair or maintenance reminders for the vehicles in your fleet that are affected.
7. Whether Your Drivers Are Compliant
Since the Federal Motor Carrier Safety Administration's (FMCSA) Electronic Logging Device (ELD) mandate became effective in December, it's important that all fleet vehicles and drivers remain compliant. This means using automated onboard recording devices that track hours of service (HOS) and documents for records of duty status (RODS) reporting.
Being compliant with this rule will not only help your fleet avoid noncompliance penalties, it also will help you to:
Reduce reporting paperwork
Decrease human reporting errors
Improve fleet communication
Eliminate fraudulent time entries
Decrease overhead
Improve organization and processes
8. If Your Fleet and Driver Information is Up to Date
You know it's going to be a bad day when one of your drivers is involved in an accident. However, what can make the situation significantly worse is if the driver's license, vehicle registration, or fleet insurance is expired. Not only can this result in legal issues for your company, it also can lead to a multitude of fees and fines, as well as higher insurance rates.
Even without the extenuating circumstance of an automobile accident, you still need to be aware of all renewal dates and to verify that this information is up-to-date to ensure coverage of your fleet. However, when you have several or even dozens of vehicles to manage, this is a lot of information to try to remember. The most efficient way to track maintenance and renewal reminders is to use your GPS fleet management software. You can set up helpful reminders that will prompt you of these important tasks via text message or email.
The Five Pillars of Operational Efficiency
There are five components to operational excellence that need to be brought to peak efficiency if you're to achieve your quality of service goals: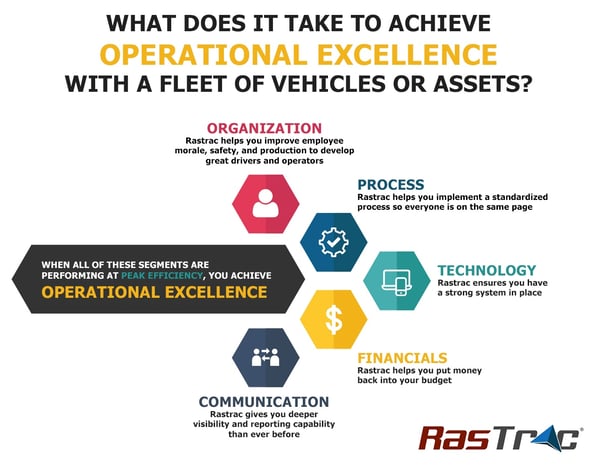 1: Organization
Coordination is key for getting the most you can out of your resources—this includes your fleet of vehicles, your employees, and other assets.
Rastrac helps companies and government entities organize fleet efforts to improve employee morale, safety, and productivity to turn good vehicle drivers and equipment operators into great ones.
2: Processes
One of the pillars of a great organization is a set of standardized practices that allow new workers to quickly learn the ropes, and by which all employees can be consistently trained and rated.
GPS fleet tracking solutions help fleet managers implement and utilize more efficient practices across the organization. This further promotes safety, efficiency, and consistency for operations in all regions.
3: Technology
Having the right tools for the job is crucial for achieving operational excellence in any organization. Without those tools, organizations could be placed at an enormous competitive disadvantage.
GPS tracking for vehicles and assets is one advanced technology tool that every fleet should have. The data collected by GPS devices enables fleet and asset managers to more reliably plan and coordinate deployments, which creates the efficiencies that drive higher quality of service for the organization.
4: Communication
Clear communication is a must for making sure that employees understand what is expected of them on the job. Being able to reach out to employees to send them important updates or to correct bad behaviors before they become habits helps ensure that business goals are met.
Fleet management software solutions, when paired with GPS tracking devices, allows fleet managers to actively track assets in the field and reach out to specific drivers when necessary. This helps facilitate communication with drivers in the field to maximize their productivity, safety, and regulatory compliance.
5: Financials
For every organization, the bottom line is a critical factor in achieving not just operational excellence, but in keeping the entity profitable or under budget. This provides the capital for investing in new drivers, technology, and other assets when they're needed.
GPS fleet tracking solutions help fleet managers ensure that they're getting the best bang for their buck. By helping enforce schedule adherence, minimizing time wasted, and preventing timecard/fuel fraud, GPS can help any organization improve their financial performance.
When all the above elements are performing at peak efficiency, then an organization can truly be said to have achieved operational excellence.
How to Overcome Common Fleet Management Challenges
An effective fleet management system can help make the variety of daily functions you have to do a whole lot easier, and make you a more effective operations manager. Using global positioning system (GPS) tracking devices in conjunction with fleet management software, you can mitigate risks and solve many of the challenges by gaining valuable data and optimizing your processes.
Here are some "How To's" for overcoming common fleet management challenges:
1: How to Easily Get Better, More Accurate Data
Having accurate, actionable data is important to virtually any business. Fleet operations management is no different. As an operations manager, you need reliable, accurate, and timely data about a number of factors — such as up-to-date information about the location, condition, and usage of your vehicles and assets, routes, and driver performance and behaviors — in order to most efficiently do your job and help others do theirs. This is where an effective fleet management system can be helpful.
Rastrac's fleet management software is easy to use and puts the data and reports you need at your fingertips. No more cumbersome, non-user friendly software; no more having to create reports manually or relying on operators to submit reports that may contain inaccurate information due to "human error."
2: How to Save Money and Decrease Overhead Costs
Using a fleet management system and asset tracking software can help save your business money by recording information that is useful to the performance of your fleet and by providing solutions to help optimize your operations. This information can help you to enhance your business's fuel efficiency, increase your productivity and more.
Check out our free resource guide on seven tips for helping to save money on your fleet expenses.
3: How to Improve Vehicle or Equipment Maintenance Efforts
In conjunction with GPS tracking devices, fleet management software can help to improve your fleet maintenance by providing diagnostic data and allowing you to monitor the condition of your vehicles and equipment.
It also enables you to schedule important reminders for your equipment or vehicles, such as renewing or updating their vehicle insurance and registration. Missing important preventative fleet maintenance reminders can turn into costly mistakes for your business.
4: How to Reduce Risks and Increase Compliance
Just like fleet software maintenance reminders can be used to ensure your vehicle undergoes its state-required safety inspections, fleet management software also can be used to help operations managers reduce many risks through active monitoring. You can monitor driver behavior, access up-to-date and accurate information about your vehicles or equipment from just about anywhere, and know where and in what condition your assets are at any time.
The software also can be used to ensure your vehicles and equipment meet a number of compliance standards. This can be particularly handy when it comes to meeting requirements for food transporters from the U.S. Food and Drug Administration's Food Safety Modernization Act (FMSA). For example, your GPS tracking system can be used to ensure that temperature-sensitive cargo that is being transported in refrigerated vehicles is actively monitored without sacrificing your productivity.
Typically, drivers have to pull over and stop to manually check the loads periodically. However, with a fleet management system's real-time remote temperature monitoring capabilities, your drivers can remain focused on task while you ensure that the cargo remains safely within compliance standards.
5: How to Improve Customer Service
Customer service often isn't associated with fleet managers. However, operations managers can play a significant role in customer service behind the scenes. By knowing the location of your vehicles or equipment, the condition of your assets, and driving behaviors of your drivers, you can make the day-to-day operations run more smoothly and efficiently.
This information also enables you to provide better customer service to your clients by letting them know the status of their delivery for transportation, or by being able to perform remote diagnostics on equipment that is rented out to third parties.
6: How to Improve Contract Enforcement
If your company rents vehicles or equipment to others, then this solution is for you. GPS devices can help keep renters honest and you informed by providing documented information about the location of your equipment. With Rastrac's geofencing capabilities, you can set up alerts to notify you when any rented equipment leaves a designated service area.
7: How to Combat Theft Concerns
GPS tracking devices allow you to know where your vehicles are in real time, and set alert notifications to let you know when they are being used without authorization. For example, Rastrac's remote starter disable feature allows us to enhance theft prevention by remotely shutting off the vehicle's starter when the vehicle is parked to help keep your fleet secure.
GPS tracking software can provide operations managers like you with peace of mind in knowing that the location of your high-value assets can be monitored at all times. This also is vital information that can be provided to law enforcement when equipment is stolen to aid in its recovery.
8: How to Improve Time Management
For any organization, time management is one of the key pillars to success. When every team member uses their time wisely it's easier to meet your goals and deadlines in an effective and efficient manner.
Enacting time management systems can help almost any organization improve their efficiency and effectiveness. But, how can you keep drivers in the field to such a system when you're not there to personally monitor their activities?
One method that different businesses and government organizations have found to be effective is to turn their GPS tracking systems into a time management system. Two key ways that GPS can help with time management include:
Applying Time and Date Stamps to Important Events. With GPS tracking systems for your fleet vehicles, and GPS fleet management software integration, you can track where your vehicles are at each hour of the day. This gives you something to compare time log entries to for an independent verification.
Preventing Unauthorized Side Trips. With GPS fleet management software, you can create custom geofences so that you are instantly alerted when an asset leaves its assigned territory. Unauthorized side trips on company time can cost you a significant amount of time, labor, and fuel over time. With a geofence, you can prevent these "side-trips."
Why Use GPS Fleet Tracking Software?
For all of the "How To's" in the previous section, GPS fleet tracking software is a key resource. Without it, it's nearly impossible to get the data you need to make significant improvements.
All across the country, fleet managers are using GPS fleet management solutions to:
Increase Efficiency. By tracking driver behaviors and optimizing route planning, GPS tracking systems can help increase the efficiency of fleet vehicles by reducing idle time, excessive hard acceleration/braking, and unnecessary detours.
Improve Maintenance. With remote engine performance monitoring, fleet managers can quickly spot when preventative maintenance is necessary, preventing on-the-road breakdowns.
Prevent Theft. When vehicles or trailers are stolen, GPS tracking systems can be used to inform police of the current location of the GPS-tagged items, aiding recovery efforts.
Prevent Fraud. Fuel theft/fraud is an all too common reality of vehicle fleet management, with some drivers over-reporting their fuel consumption for personal profit. GPS tracking helps prevent theft by accurately tracking vehicle use and engine performance statistics, which can be used to uncover fraud.
Increase Safety. Quickly spotting bad driving habits can not only increase efficiency, it can increase safety. By curtailing bad habits, you can reduce the risk of accidents that cause delays and bad press.
The best part is that GPS fleet management software can organize all of this information into simple reports that clearly show you the information you need to know at a glance. This helps reduce the paperwork hassles of dealing with countless written reports for every vehicle activity.
Taking Operational Efficiency to the Next Level with RastracGo
With RastracGo, our latest GPS portable asset tracking device that integrates with your existing fleet management and asset tracking software, you can conveniently track and monitor your assets regardless of size. Whether it's a large shipping container, a small but valuable pharmaceutical package, or even a simple envelope, our credit card sized device fits wherever you need it to go.
Rastrac's newest technology can play a role in helping your business to meet the five foundational pillars of operational excellence. It can help you monitor behaviors to improve safety, gain actionable data to help you to establish consistent policies and standards, adopt modern technology that integrates with your existing systems, increase your monitoring capabilities, and put more money in the bank:
Enhance Your Asset Tracking Capabilities. With RastracGo, the device is so compact, lightweight and portable, it can literally attach to a keychain or a necklace due to its convenient keyring design. Additionally, because it has a SIM card port, it can "communicate" with cell towers to improve its tracking capabilities (requires an active data plan and a SIM card to be installed).
Decrease Damage to Assets from Mishandling. The RastracGo device comes equipped with sensors that can detect acceleration, humidity, light, noise, pressure, and temperature. This provides you with timely, actionable data about the conditions in which your assets are traveling and whether temperature-sensitive pharmaceuticals are being properly transported and fragile packages are being handled with care.
Reduce Unnecessary Transportation Costs. RastracGo uses your existing fleet management tracking software, allowing you to optimize your driving routes or reroute drivers based on inclement weather, traffic accidents, or other hazardous driving conditions. This helps to decrease the amount of time that your drivers spend needlessly idling in traffic.
With the right GPS fleet tracking solutions, you can get the info you need to make your fleet more effective and efficient!
Learn more about how to improve your fleet management capabilities by contacting Rastrac directly or by downloading our guide at the link below.
Like what you're reading? Subscribe to our blog.
Get our latest posts straight to your inbox.