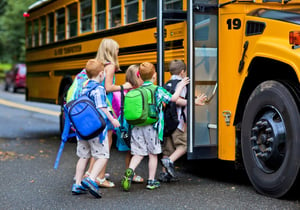 School is back in session for another year and educational institutions across the country are once again enlightening young minds (or at least trying their best under the circumstances). However, before teachers can start to educate students, said students need to reach the school safely and on time.
According to National Highway Traffic Safety Administration (NHTSA) statistics, "from 2004 to 2013 there were 340,039 fatal motor vehicle traffic crashes. Of those, 1,214 (0.4%) were classified as school-transportation-related." Also according to the report, these crashes resulted in the deaths of 106 school transportation occupants (45 drivers and 61 passengers), and 116 school-age pedestrians.
While that is a very small percentage of the total traffic fatalities over that ten-year period, it's still more than 120 fatal accidents per year. That's 120 too many fatal school transportation crashes each year.
To keep students safe, it's absolutely vital that school systems use every tool at their disposal—including GPS tracking for school buses.
What Does GPS Bus Tracking Have to Do with Student Safety?
There are many rules that school systems use to ensure that their bus drivers follow safe driving practices to prevent accidents. However, how can school systems be certain that drivers are actually following those rules?
Having a school official ride on the bus every day to closely monitor a driver's behavior isn't a viable solution—it would cost too much to have a full-time monitor for each bus/transport.
But, there is a way for school officials to closely monitor driver activities and behaviors without having to station an official on the bus to breathe down a driver's neck: GPS tracking for school buses.
With GPS tracking devices and fleet management software, school officials can freely review the driving statistics of each GPS-tagged vehicle in the education fleet and see if drivers are:
Obeying local speed limits and stop signs
Stopping at railroad crossings/pedestrian crosswalks
Properly engaging their stop signals prior to beginning passenger pickup
Making their pickups at the appropriate times and not leaving bus stops early
Adhering to their routes
GPS Tracking = More Accountability, More Control, and More Safety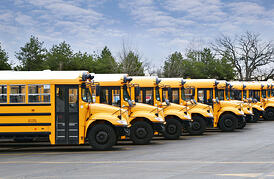 By remotely monitoring driver behaviors, GPS tracking systems help school systems maintain strict adherence to driving safety guidelines. This keeps safety at the forefront of your drivers' thoughts.
Increasing the accountability of drivers gives your school system more control over their behavior behind the wheel—making for safer student transportation.
However, the safety benefits of GPS education fleet tracking go beyond controlling driver behavior. With the right GPS system, it's possible to tie into a vehicle's onboard diagnostics system. This allows the education fleet manager to remotely spot potential issues that might impact the safety of the vehicle well before the problem can worsen and cause a breakdown.
By diagnosing and fixing problems with preventative maintenance, it's less likely that school buses will become stranded because of mechanical failures. Conversely, if a bus does get lost or broken down, the GPS signal will allow educators to quickly find the bus's current location and send another bus to pick up the students while the bus awaits repairs or towing.
There are a lot of ways that school systems can benefit from using GPS tracking for their vehicle fleets. Learn how easy it is to get started with GPS tracking for education today!
Like what you're reading? Subscribe to our blog.
Get our latest posts straight to you inbox.