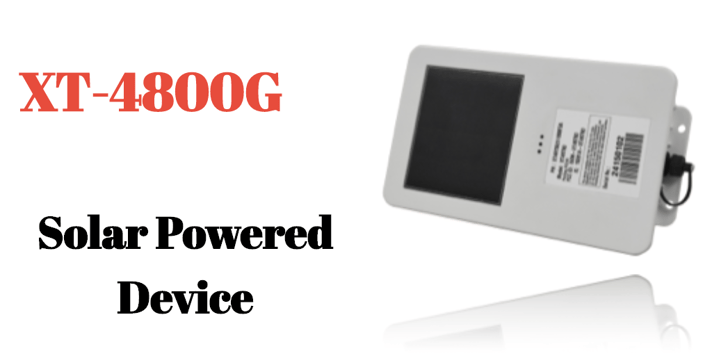 One of the biggest weaknesses of a battery-powered portable GPS device is that the more frequently it updates, the faster it runs out of power. However, some fleet managers simply need to have frequent GPS tracking updates to make the most out of their GPS tracking unit's anti-theft and fleet management capabilities.
Using an integrated GPS tracking device that draws power from the asset being tracked is one solution, but what about tracking unpowered assets?
Here's where solar-powered GPS tracking devices like the XT-4800G can be useful.
Why Go Solar?
The biggest advantage of a solar-powered GPS device over other battery-powered units is that it can continuously recharge its battery over the course of a day. Regular battery units either need to be plugged in or have their batteries replaced every so often—which is more work and maintenance for you.
With a solar unit, there's less need for a driver to actively maintain and recharge the GPS tracker. As long as the solar cell is getting plenty of light, the battery is able to recharge itself. This helps to maximize continuous use time for the GPS tracker as well as battery life.
For example, the XT-4800G has a lifespan between 6 and 10 years (depending on use conditions) on a standard 10.6 Ah lithium-ion battery.
Technical Specs of the XT-4800G:
| | |
| --- | --- |
| Specifications | |
| Dimensions (L x W x H) | 7.6" x 4.9" x 1.4" (19.3 x 12.4 x 3.6 cm) |
| Weight | 17 oz. |
| Physical Interface | 8-pin circular bayonet connector |
| Options for I/O | 2 digital inputs, 1 ADC, 1 UART, 1 digital output, 1-Wire Bus |
| GPS Receiver Type | 50 Channel |
| Operating Temperature Range | -40°C to 70°C (-40°F to 158°F) |
Examples of How You Could Use a Solar-Powered GPS Tracker
Anti-theft for Trailers and Other Large Assets. A solar-powered GPS tracker on the top of a trailer or in another large asset can be a powerful anti-theft tool. Thieves may try to thwart integrated GPS tags on a trailer or other large asset by not hooking up electrical systems properly on trailers or towing other big assets on their own trailers. An independent solar-powered tracker could go unnoticed, allowing you to track the asset regardless of its power status.
Tracking Assets in a Lot. When you're keeping a lot of assets in a storage or parking lot, you want to be able to find them quickly. Having an active solar GPS tag makes finding cars, generators, trailers, and other assets in a lot fast and easy. Plus, if someone tries to take an asset off the lot without powering it on, you'll still know.
Weaknesses of Solar-Powered Units
Considering their long battery life and usefulness for anti-theft purposes, solar GPS units can seem like the perfect solution for your tracking needs. However, there are some things you may have to consider before choosing a solar-powered unit over a battery-powered or integrated GPS solution.
First, solar-powered GPS units need to have a reasonably strong light source to recharge efficiently. This tends to limit where you can place the solar cell for the GPS to the top of an asset. Also, this can prevent the solar-powered unit from charging efficiently in cloudy or stormy weather.
Because of the need for a strong light source, solar GPS trackers are not usually recommended for tracking smaller packages contained within a trailer unit.
Second, if thieves know what to look for, the solar-powered GPS can be relatively easy to spot since the solar cell needs to be exposed.
As with any kind of tracking solution, there are pros and cons to using a solar-powered GPS device. We here at RASTRAC strongly recommend talking to an experienced GPS tracking provider about what your tracking needs/goals are to find the best GPS tracking device for you.
Like what you're reading? Subscribe to our blog.
Get our latest posts straight to you inbox.