After almost five years of crude oil downturn, it's increasingly important for oil and gas fleet managers to serve as a low-cost service provider that can help get oil and gas energy commodities to market.
Deloitte's recent U.S. Oil and Gas Outlook 2018 report emphasizes the importance of businesses embracing the digital revolution to become more innovative in finding ways to increase efficiency and to reduce costs. One way to do this is to embrace global positioning system (GPS) technology.
An oil and gas GPS tracking system is an effective fleet management tool that can help you optimize your operations to increase productivity and efficiency. In addition to live tracking, a fleet management system enables you to enjoy a number of benefits, including:
Increasing fleet visibility
Ensuring vehicles are regularly maintained
Increasing employee (and community) safety
Identifying and correcting bad driver behaviors
Verifying employee time cards
Improving anti-theft efforts
Helping employees stay on task and on schedule
Our fleet management experts have put together a list of the top four reasons why every oil and gas fleet should invest in GPS fleet management solutions for their operation.
1. To Improve the Safety of Drivers and Those Around Them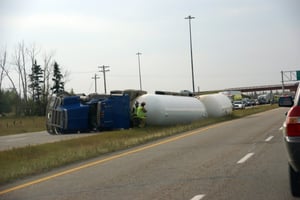 This first reason should come as no surprise. The safety of fleet drivers and others that are traveling on the roads with them is paramount and should be the top priority of every fleet manager. This concern is especially important for those that operate in oil and gas fleets, as the petroleum products that they are responsible for transporting are so inherently dangerous.
The reality of the situation is that a significant number of fatalities relating to the industry are associated with deaths that occurred on roadways. According to the U.S. Department of Labor Occupational Safety and Health Administration (OSHA), approximately four of every ten workers killed in the oil and gas industry die in highway motor vehicle accidents.
With a fleet management system, you can monitor a variety of driver behaviors and events, including:
When they arrive or depart specific locations
How quickly vehicles accelerate or decelerate
Driving speeds
Hard braking
Turning events
By remotely monitoring your fleet vehicles and knowing where they are at all times, you can be prepared to provide first responders with the best and most accurate information possible in the event of an emergency.
As you can see, having an efficient GPS fleet management system with live tracking can help you increase fleet safety in many ways.
2. To Provide Remote Real-Time Monitoring & Fleet Visibility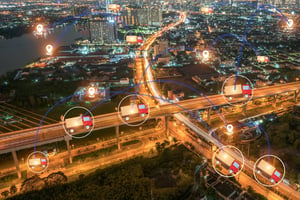 When your drivers and operators are in the field, how do you stay up-to-date in knowing where they are? Some fleet managers have to hail their drivers on the radio. For others, they must spend a bunch of time making individual calls to find out where they are and to get their status updates. However, with a GPS-based fleet management system, you'll no longer have to spend a significant portion of your valuable time on these monotonous tasks.
Using a computer, smartphone, or another mobile device, you can quickly and easily use your oil and gas GPS tracking software to determine where your drivers are located at any given point in time. Additionally, using Rastrac's geofencing tool, you can set up virtual perimeters around specific areas or along specific travel routes. When one of your vehicles that is equipped with a GPS device either enters or leaves that route or area, you will automatically receive an alert via email or text notifying you of the movement.
Additionally, you can remotely monitor and receive automated reports on your vehicles and equipment. This includes monitoring:
Equipment performance
Flow rates
Tank levels
Temperatures
3. To Help Increase Oil and Gas Fleet Efficiency
In addition to transporting petroleum products, oil and gas industry fleets also transport several other supplies and equipment, including pumps, sand, tubes, and other resources and tools to drilling sites. As such, there are a lot of components to effectively monitor, track, and report throughout the day.
The good new is that this doesn't have to be complicated anymore. An effective fleet management system can help you manage your business more efficiently with automated reports and by providing greater flexibility. For example, you can add your own custom maps to provide better off-road live tracking capabilities. Additionally, our easy to use dashboard allows you to quickly monitor and access reports that accurately detail your fleet equipment and vehicle usage.
These capabilities, along with all the other benefits that come with a reliable fleet management system, can help you breathe a little easier knowing that you can accomplish more while actually doing less.
4. To Help Reduce Unnecessary Operational Expenses
By taking advantage of a reliable GPS fleet management system for all of the aforementioned reasons, you also can enjoy the benefit of reducing your fleet expenses. When drivers stay on task and adhere to assigned routes, it helps to reduce fuel usage and its related costs. Additionally, by increasing driver safety, you can reduce the likelihood of incurring the expensive medical and equipment costs that result from accidents, lost products, increasing insurance costs that result from these circumstances, lawsuits, and other expenses. Keeping vehicles properly maintained on a regular schedule helps to ensure they are safe and operational, and helps to decrease the need for costly major repairs.
These are just a few examples of the ways you can save money while optimizing your operations with GPS for oil. At Rastrac, our team of experts is focused on providing many of our clients with affordable and customized GPS fleet management solutions for their businesses. Because our GPS live tracking software and devices are non-proprietary, it provides you with the flexibility of enjoying products that can integrate with your existing systems (without the added cost and aggravation of having to buy entirely new systems).
There are many other benefits to using live tracking via a fleet management system. To learn more about how fleet management can help your business, check out our free oil and gas feature sheet by clicking on the image below.
Like what you're reading? Subscribe to our blog.
Get our latest posts straight to you inbox.