Contrary to popular belief, GPS asset tracking for asset management isn't limited to only tracking fleet vehicles and other mobile equipment. Global positioning system (GPS) technology is used by businesses in a multitude of industries around the world to help them keep an up-to-date list of current assets. This technology is particularly useful for the oil and gas field services industry.
An effective asset tracking system is one that allows you to monitor the locations and conditions of your assets when they are in the field. No matter whether these assets are vehicles, oil and gas tanks, or generators, GPS asset tracking provides the valuable and actionable data you need to make informed decisions about your assets and operations.
Asset Management for Monitoring Locations in Field
With an asset tracking system that relies on GPS technology, you can locate any of your valuable assets while they are in the field with pinpoint accuracy. Simply plug your GPS tracking devices — which can be battery-operated or plugged into a power source for long-term use — into your assets to ensure that you always know where they are.
Some examples include the ATU-620, which is a battery-operated device that is mountable virtually anywhere, or the TTU-700, which has a battery life that can last up to seven years when set to send one message per day.
Be Notified When When Your Assets Are On the Move
When you have stationary oil and gas equipment, you'd assume that it's located where your team left it at an assigned location. However, that's not always the case. Assets that can be moved can be stolen at any time, so having an asset tracking system can help you stay abreast of these situations when it's happening through the use of geofencing technology.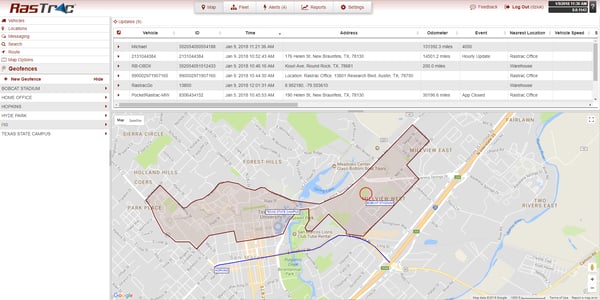 A geofence is a virtual boundary you can set for a specific area on a map that corresponds with a real-world geographic location. If you want to know whenever an asset enters or leaves a particular area in real time, you can set alerts to notify you with an email or text message. You also have the option of running detailed reports on your list of current assets for these types of events as well.
Mitigate Risk of Theft with GPS Asset Tracking Software
Theft is a real (and costly) concern for any asset manager. When you're dealing with equipment that is worth potentially tens of thousands of dollars — or a few hundred thousand dollars — you're going to want to be sure that you know where it is at all times to ensure that it doesn't get stolen. Another benefit of GPS asset tracking for stationary equipment is that it enables you to know the precise geographic location of your most valuable assets, as well as if and when they leave a specific area, with the help of geofencing.
Remotely Monitor Your Equipment Condition & Performance
As someone responsible for your organization's asset management, you need to know more than the locations of your assets. With GPS asset tracking, you can remotely monitor a variety of information and receive alerts based on thresholds you set, including:
Equipment performance data

Tank levels

Flow rates

Equipment temperatures

Equipment usage
With generator monitoring for asset management, for example, you can remotely monitor and receive alerts whenever a generator is turned on or off, when its battery voltage is low, when fuel or coolant levels are low, or its engine temperature is too high. By having valuable data at your fingertips, you'll be able to make better decisions regarding asset maintenance. Furthermore, a GPS-based asset tracking system enables you to more effectively track when an individual piece of equipment requires preventative maintenance (mitigating the need for costly repair bills) and set automatic reminders for when annual or quarterly inspections are due.
As one of the world's leading GPS asset tracking providers, Rastrac is responsible for tracking more than $1.5 billion in vehicle and equipment assets for clients worldwide. Our team of full-time developers (plus equipment experts) rounds out our offering of non-proprietary GPS tracking software and devices with feature-rich, reliable, and trustworthy service that has a 99.99% uptime record.
To learn more about oil and gas equipment and asset tracking solutions, be sure to check out our free resource sheet by clicking on the link below.
Like what you're reading? Subscribe to our blog.
Get our latest posts straight to you inbox.