The winter season creates extremely hazardous road conditions for motorists. According to the U.S. Federal Highway Administration (FHWA), almost 70% of the U.S. population lives in snowy regions. Each year, 24% of weather-related accidents occur due to icy, snowy, or slushy road conditions that result in more than 1,300 deaths and 116,800 accident-related injuries. This is why most municipalities use snowplow operations during the winter to perform regular street cleaning — ensuring all roads remain safe and clear of snow and ice hazards.
Some of the biggest challenges municipalities face during the winter season include:
Managing ice countermeasures;
Equipment maintenance;
Optimizing snowplowing routes; and
Minimizing unsafe driving behaviors.
One snow removal tracking solution that can help monitor snowplow operations is Rastrac's StreetComplete. StreetComplete allows fleet managers to monitor their service coverage areas in real-time with color-coded mapping that "ages" as time progresses between the last time an area was serviced.
Here are just some of the ways using Rastrac's StreetComplete plugin can help keep snowplow operations running at peak efficiency.
Optimize Snowplowing Routes
StreetComplete, a powerful route optimization tool for fleet management, is a color-coded mapping system that monitors in real time when and where snowplow operations are completed. As time passes, each set color changes to notify the user of the amount of time that has passed since a street was last serviced for snow removal.
For example, if a fleet manager wanted to make sure different streets were being cleared every hour, StreetComplete can be set to display green for streets that have been snow plowed in the last 15 minutes, yellow for 16-40 minutes, and red for more than 41 minutes. Once the snowplow operations have been completed, the street color will cycle back to the first color in the order. This feature helps fleet managers optimize their plowing schedule and quickly assess which streets need the most servicing.
Allocate Snowplows to Higher Service Needed Areas
Integrating normal GPS tracking solutions with StreetComplete allows fleet managers to take snow removal tracking one step further. By knowing which roads and areas are most in need of servicing, fleet managers can redistribute snowplows to where they will have the biggest impact and avoid excessive overlapping— improving the efficiency of their snowplow operations. It can also monitor when the salt spreader is engaged and for how long, reducing operational costs for rock salt and other anti-ice compounds.
Monitor Conditions of Snowplow Operations Assets
Keeping fleet equipment maintenance scheduling up-to-date is an important part of optimizing snowplow operations. Having a vehicle break down, or operating with a damaged snowplow, can cause snow to build up on the roads and create bad road conditions for drivers.
An effective fleet management system allows users to track important vehicle data and other driving diagnostics, including:
Engine idle times;
Acceleration and deceleration rates;
Fuel usage; and
Hard braking habits.
If assets need to be serviced, fleet managers are notified via text or email with a fully automated report of each vehicle's condition. These reports can also help alert fleet managers to bad driving habits that could lower the efficiency of snowplow operations by adding risk to the possibility of accidents.
Municipalities have the responsibility to minimize snowy and icy road conditions that could lead to serious accidents and injuries through efficient street cleaning and snowplow operations. Rastrac's StreetComplete tool and fleet management software offer snow removal tracking solutions that allow users to stay in control with live tracking in real-time to improve route optimization and manage their plowing schedule. If you're interested in learning how to increase the efficiency of your snowplow operations this winter, download Rastrac's free snowplow operations resource guide, or request a demo of StreetComplete today!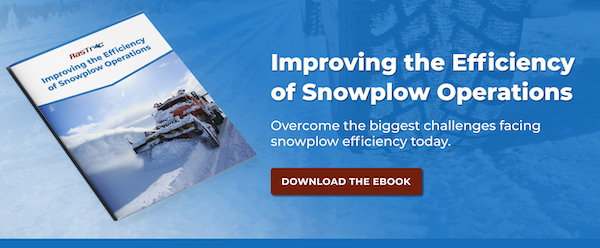 Like what you're reading? Subscribe to our blog.
Get our latest posts straight to you inbox.