It takes a lot to keep a municipality up and running efficiently. Managing a city is a tough job—and all too often thankless. When things are running smoothly, people rarely notice. But, if something's not working right, the constituents will make their displeasure known.
City managers need to make sure that municipal services are being run as reliably as possible to keep citizens happy and healthy. Of course, municipal & local government fleet managers have to follow extraordinarily tight budgets—and the public will hold civic leaders accountable for any waste. Maintaining efficiency and cost-effectiveness is a crucial task for any taxpayer-funded operation. This is where global positioning system (GPS) devices can be incredibly useful.
What is GPS Tracking for Municipalities?
In a nutshell, GPS tracking involves placing a navigation device on a vehicle, asset, or person that uses the Global Positioning System to determine its movement and geographic position at any given time. Municipalities have been known to use GPS on both their street fleets and city workers.
For example, RastracGo device is a small, credit card-shaped device that can use GPS systems, cell phone towers, or Wi-Fi connections to monitor an employee's current location. GPS Fleet Tracking serves municipalities by helping them protect and monitor city vehicles, and with Rastrac's StreetComplete add-on, municipalities can optimize trash collection, street sweeping, snow plowing, and more.
While some city workers may be apprehensive at first, thinking this is some ''government gps tracking program," they'll quickly realize the benefits it offers them.
8 Ways Fleet Tracking for Municipalities Solves Challenges
1. Reduce Fuel Consumption
The municipal fleet fuel budget isn't something to sneeze at. Even a small city fleet can guzzle gas at an alarming rate. One of the biggest problems with managing fuel efficiency for any municipal fleet is the issue of tracking vehicle use. Things such as illicit or unauthorized vehicle use and excessive idling burn gas (and add extra wear and tear to engines) without helping you reach basic operational goals for your municipality.
Without an accurate way to track where drivers have been and how much time they've spent idling while driving, it's incredibly difficult to enforce an efficient use policy.
Municipal fleet tracking with GPS gives city fleet managers the ability to track where each of their vehicles or assets has been and how long a vehicle was left idling. This makes it easy to spot if a vehicle is being used improperly so the issue can be corrected—reducing fuel consumption. In the long run, GPS tracking can save your municipality thousands of dollars in fuel expenses.
2. Improved Route Planning
Getting from point A to point B as quickly as possible is a huge part of ensuring efficiency in municipal operations. GPS tracking units for vehicles helps ensure faster delivery of key municipal services in a few ways, such as:
Improving Route Planning. Traffic is always a bit of a bear to deal with in city environments. However, a few simple tweaks in which roads a vehicle takes can shave a significant amount of time off a trip. GPS tracking makes navigating around congested traffic much easier, saving municipalities considerable time.
Keeping Drivers On Task. Another major delaying factor is when drivers take their vehicles onto unauthorized side trips. Whether it's to do a side job or to take care of a personal errand, these trips bite into your operational clock and delay important services, such as trash pickup and street cleaning.
By increasing how quickly municipal fleet drivers can get from point A to point B, city managers can make each of their municipal vehicles more effective at helping the community. This means more work is done and less time is spent sitting in traffic.
3. Optimizing Dispatch
The responsibility of maintaining public infrastructure is important. When there are calls for handling situations like emergency road maintenance issues, you need to get a vehicle out quickly to respond. To save both time and resources, this (ideally) would mean sending the closest available vehicle to the service area.
When using conventional, non-GPS tracking methods, this task often would require contacting different drivers to find out their locations to discover who is closest to the location. A GPS fleet tracking solution for maintenance vehicles now makes this possible without the hassle and time spent dealing with respondent-to-respondent discussions about who is closer.
For other fleet vehicles that handle non-emergency services such as snowplowing, sanitation, and street sweeping, Rastrac's StreetComplete tool can be incredibly helpful. This color-coded and customizable map system helps municipal fleet managers track many key pieces of information, including:
Which streets have been serviced
Who serviced each specific area
How long ago each area was serviced
This powerful and versatile tool takes the tracking and distribution of fleet assets to a whole new level, ensuring that areas receive coverage without overlap that wastes resources.
4. Monitoring Driver Behaviors
GPS can help improve efficiency by keeping municipal workers from using fleet vehicles for non-work tasks on the job. For example, if you use geofencing, you can define a service area for fleet vehicles, and get an alert if the vehicle leaves its route. This allows you to quickly reach out and verify why the driver has left their assigned municipal service area, and put them back on track.
Because many GPS devices integrate with your asset's existing technology, they can detect and record many driver behaviors on a turn-by-turn basis, including:
Acceleration and deceleration speeds.
Driving speeds.
Braking pressure and behaviors.
Route adherence.
Departure and arrival times.
Turning habits.
As you can see, using a modern GPS tracking device makes it easy to monitor the driving behaviors of your drivers and operators to ensure that they follow local and state driving laws. Furthermore, you can easily generate accurate reports that confirm equipment and vehicle operators take breaks at the appropriate intervals. By tracking when vehicles are actively being used, you can reduce payment inaccuracies for employees who try to fudge their timecard hours.
5. Preventing Theft and Aiding in Recovery
Using a reliable GPS tracking solution can help to deter theft and aid in the recovery of lost or stolen assets. By being able to accurately locate your assets in real time if one goes missing, you can provide law enforcement with the most up-to-date information to help them recover your vehicle or equipment, greatly increasing the odds of finding the asset and recovering it intact and avoiding the cost of acquiring a new vehicle.
6. Preventing Vehicle Misuse and Fuel Fraud
Unfortunately, not all employees are equally trustworthy. If you're like most risk managers, you've likely come across many employees that you can trust and a few individuals that you can't; they are the ones who try to abuse your organization's resources and time.
Some employees may try to use municipal vehicles for personal purposes, such as "borrowing" a pickup truck to help them move large items to or from their homes. This behavior may put your assets at risk and place your organization in a compromising position of liability in the event of an accident. Our GPS tracking solutions can help you reduce your liability while also saving money.
Fuel fraud and theft aren't exclusive to commercial carrier fleets—municipal managers have to deal with the occasional bit of theft as well. By tracking vital vehicle use statistics such as total operational time, engine RPMs, and distance traveled, fleet managers of municipal fleets can accurately assess how much fuel should have been consumed vs the reported fuel usage. This makes it easy to spot abnormalities and take corrective action to prevent future fuel theft or fraud.
7. Resolving Service Disputes
Handling waste management is rarely a pleasant task—especially when there's a dispute about trash pickup. GPS tracking makes it easier to resolve whether or not a trash truck was present when it was supposed to be for a routine pickup or a special collection call.
This additional traceability of operations can help to provide your municipality with an improved sense of transparency. Being able to show citizens where municipal vehicles were at a given time helps to build trust (and resolve potential disputes).
8. Remote Monitoring of Vehicle Performance
Keeping track of the mileage and maintenance dates of fleet vehicles and equipment presents quite a challenge for municipality fleet managers. After all, you can be dealing with a fleet of hundreds of vehicles that are put through the rigors of daily use on a limited budget.
This is where GPS fleet management software simplifies the process and makes it more manageable. With GPS fleet tracking for municipalities, you can:
Track the total mileage of each vehicle.
Monitor key performance metrics.
Track the vehicle's hours of operation.
Some GPS devices have the ability to interface with a vehicle's on board diagnostics system to provide remote diagnostics. With this information, it's much easier to identify which vehicles are most in need of preventative maintenance.
This not only helps reduce costs by enabling smaller, less expensive repairs, but it also helps avoid on-the-road breakdowns that disrupt operations (and traffic). By triaging vehicle maintenance in terms of which vehicles need to be serviced first, you can prevent vehicle breakdowns that would otherwise result in expensive repair costs and vehicle downtime.
What is a Mobile Fleet Tracking App?
A mobile tracking app is a piece of software designed for mobile devices that enables them to be used as location tracking devices (using the device's built-in location tracking features). In most cases, the "mobile device" in question is a smartphone carried by an employee.
Mobile tracking apps may have additional features beyond simple location tracking. For example, PocketRastrac has features for tracking total miles an employee has traveled, where employees stop (and for how long), assessing driving habits, and enabling two-way communications between employees in the field and municipal managers.
Additionally, the PocketRastrac smartphone app can be set to disable itself when employees aren't "on the clock." This is useful for protecting the privacy of municipal employees. To use a location tracking software app like PocketRastrac, you generally need four things:
A mobile device that supports the app in question and has GPS capabilities (including a mobile data plan).
The app to be installed on the device.
A tracking service plan from the software provider.
The mobile device to have a static IP address for receiving messages and tracking data.
In the case of PocketRastrac, there are versions of the app for both iPhone and Android devices. They offer many of the same features and benefits of our other Rastrac products, however they elso eliminate hardware costs. Instead of having to source and install GPS tracking devices on all of your equipment (or buying dedicated tracking tools for each municipal employee), municipalities can simply install an app on each employee's mobile phone. According to data from the Pew Research Center, "The share of Americans that own smartphones is now 81%." So, odds are good that most, if not all, of your municipal employees will own a device that's compatible with the smartphone app.
Investing in a Reliable Fleet Management System
Municipalities have to provide a lot of public services—often while operating on a shoestring budget. Tasks such as street maintenance and trash collection can be difficult and expensive, and municipal employees are often held to high standards of accountability. However, many municipalities lack the resources they need for local government vehicle tracking and employee monitoring on the job.
Using GPS fleet management for local governments and municipalities has many upsides. By increasing the safety of your fleet vehicles, making operations more efficient, reducing costs, and providing better support to employees in the field, there is no way to lose.
To learn more about the benefits of GPS fleet management for municipalities, download Rastrac's free feature sheet or check out our guide below.
Like what you're reading? Subscribe to our blog.
Get our latest posts straight to your inbox.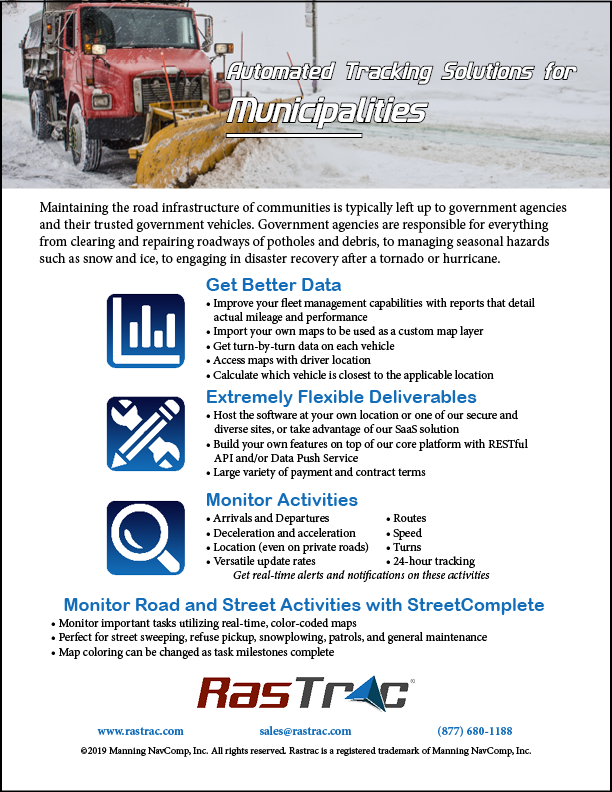 Automated Tracking Solutions for Municipalities
Download the feature sheet.
Download Now