The benefits of using an effective and reliable GPS tracking system for your fleet management are unparalleled. In addition to helping you increase productivity through improved efficiency, a GPS fleet management system also can help your organization strengthen the visibility and traceability of vehicles and other valuable assets. It also can help you identify any inefficiencies or risks and quickly address them before they become major issues.
How exactly does this all work? And, will I be able to use the system without wanting to pull my hair out?
The Technology Behind the GPS Tracking Solution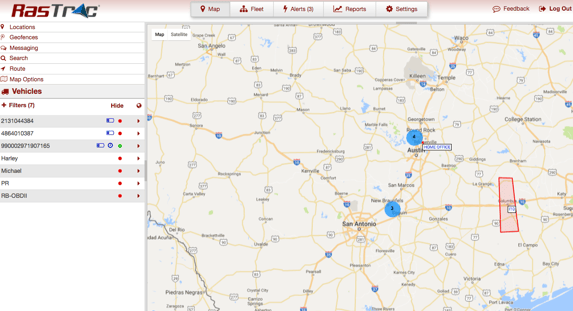 Through the integration of GPS technology, telematics, and agile software, an efficient fleet management system will provide you with a detailed look into:
How your vehicles are performing;
How your drivers are behaving and handling your equipment in the field; and
How efficiently both your machine and human assets are operating every day.
Although it may seem like using such a powerful system should be a complicated process, it's all actually quite the opposite.
Track More Than Just Locations
The process begins by installing a GPS tracking device in every vehicle in your fleet that you wish to monitor. This unit allows you to track the vehicle's location as well as monitor many other aspects of its overall performance, including:
Fuel usage
Engine activity and idle times
Vehicle mileage
Maintenance scheduling
Fluid levels
Cargo temperature
Furthermore, this agile system allows you to monitor the behavior and efficiency of your drivers. The types of driver-related data you can keep an eye on with fleet management software and tracking devices include:
Hard braking
Turning speeds and motions
Rapid acceleration and deceleration
Travel speeds
RPMs
Through the use of a secure wireless network, all the units will send the data on the vehicle performance to Rastrac. This will allow us to make improvements to our systems to better meet your needs as one of our valued clients.
Assets That Fit Your Needs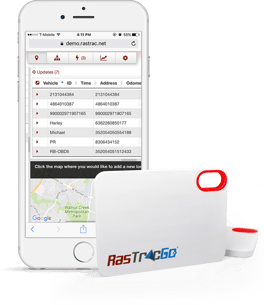 We recognize that fleet managers have a variety of needs when it comes to tracking vehicles and other valuable assets. As such, our GPS tracking devices range in capabilities, power options, and sizes to meet your fleet management needs. You have the option of choosing from hard-wired, battery operated, or even solar powered devices, depending on what you want to track or monitor.
Additionally, with the creation of RastracGo, our newest portable tracking device, you can track the thinnest and smallest assets with ease. Don't allow its small design to fool you — this customizable tracker packs a powerful punch when it comes to demonstrating advanced and efficient GPS tracking capabilities.
Easy and Convenient Access Wherever You Are
No matter whether you're out in the field or back at the office, you can stay connected regardless of your location. From any computer or mobile device connected to the internet, a fleet manager can log in to their Rastrac account via a secure website to:
View vehicle tracks and locations.
See or set any automated alerts.
Monitor the behavior of each individual driver.
Determine who is using a certain asset and when.
An Affordable, Intuitive, and Easy-to-Use System
Some GPS fleet management systems are cumbersome and difficult to use. Rastrac's approach to GPS tracking solutions for fleet management involves removing unnecessary complications by providing a straightforward, easy-to-use platform. We arm fleet managers like you with the training, support, and a multitude of tools you need to improve your organization's overall efficiency immediately.
Rather than forcing you to cull through a sea of unnecessary data, you can specify the exact information you wish to track, monitor, and report. This means you can easily access the information you need when you need it. No fuss, no muss; it's fleet management without added complication.
Our industry-leading GPS fleet management solution will allow you to make significant improvements within your organization quickly and efficiently. If you want to learn how our Rastrac team of fleet management professionals can help your operations, click on the banner below now to speak with one of our industry experts.
Like what you're reading? Subscribe to our blog.
Get our latest posts straight to you inbox.