Imagine that you're sitting at your desk and are looking over your spreadsheet of assets when, suddenly, you realize that one of your $10,000 assets is not accounted for. It was supposed to have been turned in by the end of the day yesterday, but now it's nowhere to be found.
What do you do?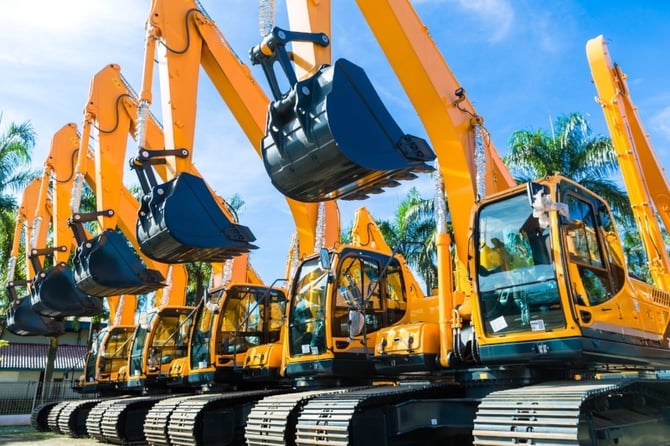 No matter whether you manage a small municipal fleet, a large commercial fleet, or you rent out equipment to third parties, theft is a real concern for any operations manager. No one ever wants to have to deal with this type of situation, but it is an unfortunate reality when managing a fleet of vehicles or high-value rental equipment. However, this is the kind of situation where an effective asset tracking system will come in handy; it can provide you with the data you need to know that your equipment is safe and where it belongs.
According to the National Equipment Register (NER) Annual Theft Report, among some of the factors that most contribute to the low recovery rate of stolen construction equipment are:
delays in discovery and reporting of thefts,
non-existent or inaccurate records, and
confusing equipment identification systems.
An asset tracking system provides you the ability to locate any valuable assets while they are out in the field, and obtain specific reports including hours of use. Asset tracking software, in conjunction with global positioning system (GPS) tracking devices that either are hardwired into the equipment's power source or are solar- or battery-powered, serves as a powerful form of theft deterrent. It also provides a means through which to recover your equipment in the event it should become lost or stolen.
The use of geofencing can also help you to prevent theft or recover your asset. It assists in protection through the following ways:
Enables you to effectively and efficiently track your assets or vehicles in the field
Helps to identify unauthorized asset use
Sends notifications and alerts when assets arrive at a specific location or move from a predetermined location
Improves responsiveness and recovery of assets when stolen
We've outlined three ways that an effective asset tracking system can help to prevent theft of your high-value assets.
3 Ways Asset Tracking Software Prevents Theft
#1: Knowing Asset Location and Events
#1: Knowing Asset Location and Events
Asset management software often is used in conjunction with GPS tracking devices that are installed on or inside the assets you wish to track. It allows you to monitor the last known locations of your assets, whether an asset is on or off, and if it is idling or actively moving. It may also provide documented data about many other metrics, including pressure, temperature, travel speed, acceleration, and deceleration.
Frequently, equipment that is located off-site has low levels of physical security when compared to on-site locations that are fenced in. Thefts occur with much greater frequency from work sites that have little to no security. As an operations manager, GPS asset tracking provides you with the means to have more control over your assets in the field. The device will send status updates when specific events are initiated and provide location updates at pre-specified intervals.
GPS asset tracking eliminates the delay in the reporting of equipment theft, and can also track the location of the stolen item. The system enables you to know when assets are where you expect them to be or if they have been moved. It also provides you with documented data that law enforcement can use in the event of theft.
#2: Geofencing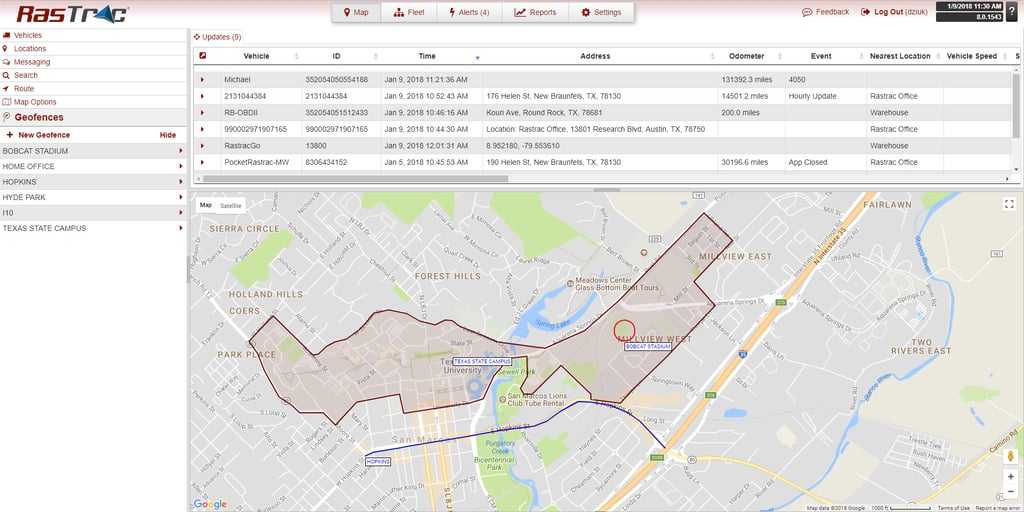 In a nutshell, geofencing is a virtual boundary that you can set for any geographic area. These boundaries can be as small as a single street, as large as an entire county, and are completely customizable. When a vehicle or asset that is equipped with GPS tracking devices travel outside or enter into any set geofence perimeter, you can set alerts to automatically notify you about the movement via e-mail or text message.
This can allow you to do several different things, including:
Track when employees arrive at or leave a job site,
Receive confirmation when a shipment arrives at a delivery location, and
Mark a specific area as a "no entry" zone for any given asset.
#3: Starter Disable Feature
If you want to add an additional layer of control and security to protect your high-value assets, some Rastrac tracking devices can be wired for a starter disable function. This time-based feature disables the starter at a programmed start time, and enables the starter at a pre-programmed end time This allows the user to control the periods of time in which the equipment can be used, or the hours in which it can be operated.
Additionally, with the remote starter disable function:
If a vehicle's engine is running when the starter disable function is turned on, it will not immediately shut off the engine. However, the next time the ignition is turned to the start position, the vehicle will not start.
During the time in which the starter is disabled, it may be reenabled through the Rastrac software; conversely, you also may shut off the starter disable function at any time using the same step.
If you're ready to see how Rastrac's GPS asset tracking system can help your business or organization achieve operational efficiency and increase its theft prevention, speak with one of our experienced asset management experts today.
Like what you're reading? Subscribe to our blog.
Get our latest posts straight to you inbox.