As an asset manager, you're responsible for the high-value assets your organization relies on to do business. How can you protect these assets and ensure they're always where they're supposed to be? Asset tracking GPS can be your solution!
So, here's all you need to know about asset tracking and how you can use this technology to improve your fleet operations.
Table of Contents:
What Is Asset Tracking?
Asset tracking, sometimes referred to as asset management, is a method of monitoring the location of an asset in the field by tagging it with a Global Positioning Satellite (GPS) tracking device.
The tracking device communicates with several satellites in orbit, measuring the communication lag with each satellite to triangulate the GPS device's current location. The more satellites the GPS tracker can communicate with, the more accurately it will be able to measure its actual coordinates.
What Kinds of Assets Can You Track?
GPS tracking is often used primarily for vehicles. However, you can track almost anything, such as:
A backup generator;
A refrigerated trailer;
Cases of small, high-value objects;
Bank deposit bags;
Individual employees working in the field;
Emergency response equipment and supplies;
Laptops and other electronic devices; and
Much more!
Your business laptop, for example, could cost your business thousands of dollars if it is stolen with all the important documents and client contracts stored in its memory. Even with insurance, the loss could have far-reaching impacts beyond the cost of the laptop.
So, being able to track the lost laptop's location and being able to report it to the authorities could help prevent a major loss.
Who Can Use Asset Tracking?
Since nearly any type of asset can be tracked, nearly anyone can use asset tracking! However, fleet managers and asset managers are the ones most commonly using asset tracking technology on a large scale.
Responsibilities of an Asset Manager
An asset manager has many responsibilities, including:
Tracking the location of each asset to ensure it is in the right place at the right time.
Making sure assets aren't lost by an employee.
Reducing instances of asset theft and reporting them if they do occur.
Ensuring contracts are carried out properly when renting out assets to other parties.
Scheduling asset maintenance.
Building routes to get assets from point A to point B.
Challenges for Asset Managers
Since asset managers have numerous responsibilities, it can be difficult to monitor so many assets and keep track of so much data. Fleet management software can help by compiling all of your asset tracking data into one place and giving you clear reports with actionable insights.
Some key asset management challenges include:
Theft Prevention
Preventing the theft of business assets is a major obstacle for nearly any asset manager. Worse yet, it's not just external criminals making off with the business' property. According to statistics cited by Small Biz Genius, "U.S. businesses lose up to $110 million a day due to employee-related crimes."
Providing a Positive Customer Experience
Even while maintaining strict control over assets in the field, asset managers need to ensure that customers of the company are enjoying a positive customer experience. When deliveries are late or assets go missing between the point of deployment and the customer, it creates a bad impression.
Contract Enforcement
For asset managers in charge of rental equipment, contract enforcement is a major challenge. Unauthorized rental equipment usage that violates the terms agreed upon in the rental contract—such as where the equipment can be used, what the approved hours of operation are, and how frequently the equipment should be maintained.
Benefits of Asset Tracking

What are the benefits of asset tracking GPS? It's a common question for asset managers who need to justify the cost of asset GPS tracking software and devices. Some of the potential benefits of using tracking devices and software include:
1. Reducing Fuel Consumption
For mobile assets, such as vehicles or construction equipment, fuel waste is a huge cost factor. Fuel waste can often be attributed to:
A: Aggressive Driving Behaviors
Aggressive driving is not only dangerous, it uses more fuel. According to the U.S. Department of Energy (DOE), aggressive driving such as rapid acceleration, hard braking, and speeding lowers gas mileage by:
15% to 30% at highway speed; and
10% to 40% in traffic that is stop-and-go.
According to the DOE, driver feedback devices help drivers perform more efficiently. Those who use them to save on fuel consumption have been found to improve their overall gas mileage by about 10%.
B: Excessive Idling
According to Ford Motor Company, one hour of idling time is nearly the same as driving 25 miles. Smaller fleets that operate 25 vehicles would be able to reduce fuel consumption by 600 gallons annually if each vehicle cuts back 15 minutes off their daily idling time.
A GPS asset tracking system monitors when a vehicle's ignition is on or off as well as its speed. Fleet managers are provided detailed information on where and how long a vehicle has been sitting with the ignition on, and can immediately act to correct the driver's behavior.
GPS devices can help asset managers track how the company's assets are being used in the field. Armed with this information, you can provide correction when assets are used improperly by employees and minimize fuel waste.
2. Reducing Maintenance Costs
By tracking use statistics for hours worked and time since last maintenance check, you can optimize your maintenance schedule for an asset so that it always remains in top condition. Additionally, by applying preventative fixes that aren't so expensive as break/fix repairs where major parts have to be completely stripped out and replaced, you can minimize your maintenance costs.
3. Saving on Insurance
Some insurance companies offer their customers discounts for using technologies that reduce risk for the items being insured.
Companies such as USAA, Liberty Mutual, and AAA all offer discounts for GPS system installation. These systems help reduce the risks involved with fleet management in two very important ways: monitoring driver behavior and improving asset recovery.
A. Monitoring Driver Behavior
GPS tracking systems provide real-time data about every driver in a fleet. Their speeding behavior can be monitored, as well as when they detour from their established route or engage in aggressive driving behaviors. Being able to monitor and correct behavior before a ticket is received or an accident has occurred helps managers increase driver safety, reduce risk, and keep insurance premiums lower.
B. Improving Asset Recovery
When a vehicle is stolen, businesses not only suffer from the loss of the asset itself, but also in the lost time associated with the theft. GPS asset tracking systems have proven successful in increasing the likelihood of recovery of stolen assets, and because of this, many states now require insurers to provide discounts on comprehensive insurance when GPS is used. Insurers from other states often provide discounts to fleet managers for installing GPS systems at their own discretion.
4. Improving Customer Support
GPS tracking devices and software help asset managers keep track of every GPS-tagged asset in their company. This way, customers can be given up-to-date arrival ETAs for important services and shipments, service techs can find specific assets in large lots more quickly, and any assets that are going "off the beaten path" can be found right away. All of this can help improve customer service and satisfaction.
Another example of how GPS tracking can improve customer service is the use of GPS tracking devices with temperature sensors in refrigerated (i.e., "reefer") trucks. If the temperature of the cold truck rises above a certain temperature, the goods inside may spoil—rendering them unsellable. With temperature monitoring-enabled GPS devices, asset managers can get an alert when the cold container's temperature rises above a certain level. Then, they can send a notice to the truck driver to check the container and fix the problem before the cold goods spoil.
5. Increasing Accuracy of Contract Enforcement
Asset tracking GPS devices can help make contract enforcement much easier. With GPS trackers, asset managers can track equipment locations in real time, get activation notifications, and log how many hours a given piece of equipment is in operation for to more accurately assess if contract terms are being followed.
6. Improving Safety for Employees
Maintaining employee safety is a key concern for any business—one that GPS locators and software can actually help with. How does GPS asset tracking improve safety? By tracking asset use data, asset managers can keep an eye out for hazardous behaviors—such as drivers speeding on roads—and provide correction.
Additionally, having personal GPS tracking devices can help employees avoid getting lost in the field since their position can be tracked remotely. Also, optimizing equipment maintenance schedules with GPS device data helps avoid sudden breakdowns that would put employees at risk of injury.
7. Improving Theft Prevention
Stopping theft and more reliably recovering stolen assets is a crucial challenge for asset managers. Thankfully, GPS asset tracking solutions can help with this challenge. How does GPS asset tracking prevent theft?
There are several ways that asset tracking software can prevent theft.
3 Ways Asset Tracking Software Prevents Theft
Imagine that you're sitting at your desk and you're looking over your spreadsheet of assets when, suddenly, you realize that one of your $150,000 assets is not accounted for. It was supposed to have been turned in by the end of the day yesterday, but now it's nowhere to be found.
What do you do?
According to the National Equipment Register (NER), between December 23, 2019 and January 2, 2020, there were 290 equipment theft incidents reported. The NER also reported that "most machines were stolen while being transported or from storage locations."
Unfortunately, recovery of stolen equipment is not as common as it should be. Thieves often are able to make off with expensive equipment before they can be caught. Some of the factors that most contribute to the low recovery rate of stolen construction equipment include:
Delays in discovery and reporting of thefts,
Non-existent or inaccurate records, and
Confusing equipment identification systems.
An asset tracking system provides you the ability to locate any valuable assets while they are out in the field, and obtain specific reports including hours of use. Asset tracking software, in conjunction with global positioning system tracking devices that either are hardwired into the equipment's power source or are solar- or battery-powered, serves as a powerful form of theft deterrent. It also provides a means through which to recover your equipment in the event it should become lost or stolen.
Some of the ways that GPS locators can help deter theft include:
1. Knowing Locations and Events
Asset management software often is used in conjunction with GPS tracking devices that are installed on or inside the assets you wish to track. It allows you to monitor the last known locations of your assets, whether an asset is on or off, and if it is idling or actively moving. It may also provide documented data about many other metrics, including pressure, temperature, travel speed, acceleration, and deceleration.
Frequently, equipment that is located off-site has low levels of physical security when compared to on-site locations that are fenced in. Thefts occur with much greater frequency from work sites that have little to no security. As an operations manager, GPS asset tracking provides you with the means to have more control over your assets in the field. The device will send status updates when specific events are initiated and provide location updates at pre-specified intervals.
GPS asset tracking eliminates the delay in the reporting of equipment theft, and can also track the location of the stolen item. The system enables you to know when assets are where you expect them to be or if they have been moved. It also provides you with documented data that law enforcement can use in the event of theft.
2. Geofencing Assets
In a nutshell, geofencing is a virtual boundary that you can set for any geographic area. These boundaries can be as small as a single street, as large as an entire county, and are completely customizable. When a vehicle or asset that is equipped with GPS tracking devices travels outside or enters into any set geofence perimeter, you can set alerts to automatically notify you about the movement via e-mail or text message.
This can allow you to do several different things, including:
Track when employees arrive at or leave a job site,
Receive confirmation when a shipment arrives at a delivery location, and
Mark a specific area as a "no entry" zone for any given asset.
3. Starter Disable for Powered Assets
If you want to add an additional layer of control and security to protect your high-value assets, some Rastrac tracking devices can be wired for a starter disable function. This time-based feature disables the starter at a programmed start time, and enables the starter at a pre-programmed end time. This allows the user to control the periods of time in which the equipment can be used, or the hours in which it can be operated.
Additionally, with the remote starter disable function:
If a vehicle's engine is running when the starter disable function is turned on, it will not immediately shut off the engine. However, the next time the ignition is turned to the start position, the vehicle will not start.
During the time in which the starter is disabled, it may be reenabled through the Rastrac software; conversely, you also may shut off the starter disable function at any time using the same step.
Standard Features of Asset Tracking Systems
Before you think of investing in an asset tracking system, you should be familiar with the standard features of one to make sure you get the most reliable one for your needs. Having this information can help save you time and money.
Some common features of an asset tracking system that you may want to review include:
What They Track
You can invest in specialized asset tracking devices of different kinds. These devices can be categorized depending on the work they do, including:
Motion/acceleration
Asset location
Asset activation or deactivation
Hours of use
Temperature
Time of access (Door open/closing)
A business manager or owner should be able to maintain control of business assets wherever they are in the field. Using highly sophisticated tracking software, you will be able to track the assets even when you are on the move or on vacation.
Standalone Software
You can decide to buy standalone software that enables you to access tracking data with customizable interfaces. While common, the specifics of this software can vary wildly from one tracking provider to the next.
So, it's often important to try a demo of the software before committing to any given GPS tracking solution.
Power Sources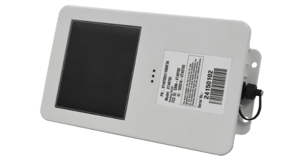 Tracking devices use different power sources depending on the size and nature of the asset. Small, unpowered assets use battery-powered trackers, while massive assets often use tracking devices that are connected to power sources.
Some trackers use rechargeable batteries that can be plugged into a power source to charge while the asset is in use, and use the battery at other times. This is great for assets that are used intermittently, such as construction equipment.
You may even opt for a solar-powered gadget that will save you energy costs and reduce your carbon footprint. This is a great option for assets that don't have any kind of power supply but require near-constant tracking.
Water Resistance
Tracking assets that work inside or under water can create some issues for asset tracking devices. However, you can get a water-resistant tracker for such devices. When water resistance is an issue, it's important to check if the device is merely water-repellent (i.e., it can take some rain) or truly water resistant. If it is water resistant, to what depth is the device resistant?
Web-Based or Locally-Installed Software
Software for an asset tracking and management system used to require installation on your business' computers directly. This meant that you would be responsible for maintaining the system to the latest updates for security and functionality.
However, in recent years, many asset tracking providers have started to offer web-based software. This makes it easier for you to access the data on any of your internet-connected devices—such as your smartphone or tablet—so you can access tracking data on the go. Also, security and other software updates are handled by the manufacturer automatically on these services, so there's no need for you to spend more on IT overhead to maintain your software.
Specifications
When you go out to buy an asset tracking system, consider specifications such as:
The configuration (LTE, HSPA, UDP/TCP /SMS, etc.)
Antenna type (Internal, external cellular, GPS)
Accelerometer (Number of axis)
Messaging (Packet data or SMS-based)
Support (Will you need accessory cables?)
Bluetooth availability
Automatic/manual firmware download
Water resistance
Battery life
Inputs/Outputs
When it comes to asset management, there is no room for taking chances. An asset tracking system is the best way to have the peace of mind to keep your fleet running efficiently.
If you want to learn more about asset management with GPS tracking, reach out to a Rastrac expert today!
Like what you're reading? Subscribe to our blog.
Get our latest posts straight to your inbox.