One responsibility for fleet managers is keeping a business's fleet operations performing at a high level of efficiency. The best way to accomplish this is by maintaining the upkeep of fleet vehicles year-round. This will require budgeting and managing your annual fleet costs to ensure there are substantial funds to do so. However, fleet expenses can fluctuate throughout the year, so it's important that fleet managers continually find ways to reduce fleet costs.
Implementing a fleet management solution, like asset tracking, into your business operations is a great way to avoid overspending on fleet expenses. You can track and monitor the conditions of each fleet vehicle to know what type of service may be required and be updated of any maintenance issues as they happen in real time. Here are just some of the fleet costs that can be reduced with asset tracking:
Maintenance and Repair Services
Regular maintenance is important to keep your fleet vehicles fully operational and to mitigate the risk breakdowns. Unscheduled repair services can be costly depending on the work needing to be done, and part replacements are a large expense to add to your yearly fleet costs.
Installing a fleet tracking device inside your vehicles allows you to monitor the car's diagnostics using your fleet management software and receive automatic notifications of any vehicle service needs. Data is updated and readily available to view at any time. Fleet managers can also set up automated maintenance reminders for vehicle tune-ups or fluid changes. All past service records can be integrated with your software so you can keep track of a fleet vehicle's maintenance history and manage your fleet budget.
Insurance Policies
Certain industries, especially the oil and gas industry, must purchase special insurance policies to cover risks that can occur during certain operational practices. Paying for multiple policies puts a heavy dent in your fleet budget, but using fleet management software could qualify your company for lower fleet insurance rates.
Some insurance agencies will recognize your efforts to improve work and public safety by monitoring fleet and driver performance and may offer lower insurance premiums. It can help increase fleet safety and reduce the risk of accidents by tracking unsafe and poor driving habits. Other ways that could help lower total fleet insurance costs include:
Minimizing the number of accident claims by improving driver behaviors through safety training;
Scheduling fleet vehicle maintenance checks to avoid mechanical failure; and
Installing fleet vehicles with anti-theft security measures.
Fuel Usage
An article from Fleet Financial lists fuel as the second largest fleet cost for industries. Improper maintenance of fleet vehicles can cause the engine to overwork and burn fuel faster. Common issues that can increase fuel usage include:
Under-inflated or misaligned tires
Dirty air vents
Excessive idling
Drivers leaving their assigned routes
Hard braking or acceleration
Obstructed fuel injectors
Asset tracking can help mitigate these issues by:
Alerting fleet managers of low tank levels or leaky fuel lines;
Monitoring driving behaviors to see which drivers engage in risky driving habits and learn how many hours their fleet vehicle has been operating (to ensure HOS compliance);
Using a geofencing tool with virtual maps that correspond to real geographic locations to track drivers and ensure they stick to their designated routes.
You will start to see changes to your fleet budget and improved fleet efficiency by using fleet tracking software. The right software and fleet tracking device matter when trying to lower fleet costs. Rastrac's fleet management solutions are customizable to fit your industry-specific fleet needs and save you money on yearly fleet expenses. Learn more about the benefits of fleet tracking, and download our guides for more information on ways to improve your fleet operations!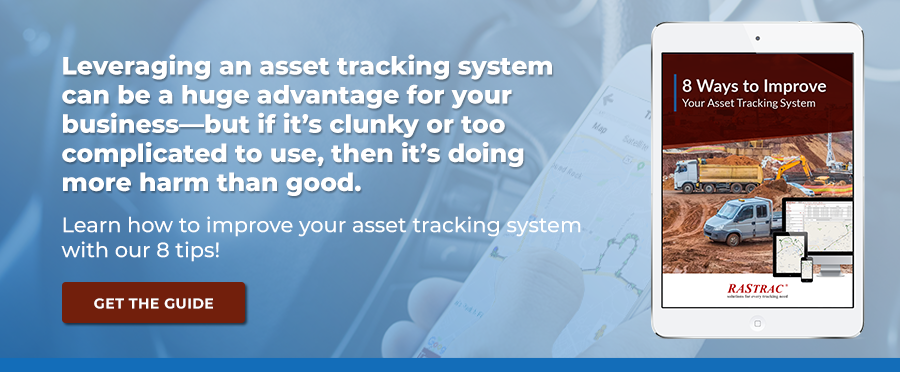 Like what you're reading? Subscribe to our blog.
Get our latest posts straight to you inbox.