Many businesses and industries today ship valuable assets that travel overseas for extended periods of time. That is why tracking and monitoring the conditions and location of those assets is extremely important. You want to know that all your shipments have arrived at their destinations in good condition. Unless you have a designated worker who is assigned to travel with those assets for whatever reason, you need a reliable way to ensure your products are safe for the duration of their overseas trip.
With a solar-powered GPS device, this job is made much easier. GPS tracking provides up-to-date information about the location of your tagged assets and alerts you to any changes that could compromise the safety of those shipments.
Why You Should Invest in Solar GPS Asset Tracking
GPS asset tracking isn't just for automobiles anymore; it's used by a wide variety of industries to track and monitor the condition of their assets. Solar-powered GPS hardware offers continuous recharging, whereas regular battery-powered units need to be plugged in and/or periodically replaced. As long as the solar cells receive plenty of light, your asset tracking device can remain powered throughout the day for continuous use!
Whether you want to track a shipping container, refrigerated trailer, or even heavy construction equipment, GPS devices are an affordable solution that provide detailed and up-to-date information regarding:
Asset location,
Temperature and humidity levels,
Maintenance checks, and
Equipment malfunctions.
Here a few GPS hardware choices you can use for overseas asset tracking.
SmartOne Solar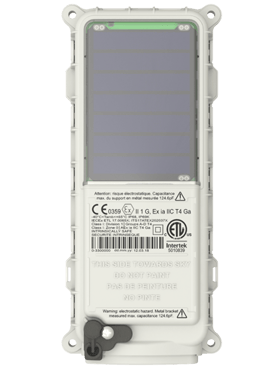 Powered by the sun, the SmartOne Solar GPS device provides excellent remote asset tracking and monitoring capabilities. The built-in NiMH battery's lifespan can last up to 10 years, significantly reducing maintenance and battery replacement costs. The SmartOne Solar also offers a Bluetooth interface for configuration and firmware updates, so you can set up scheduled report times — helping preserve the GPS hardware's battery life. Plus, the device's Reduced Messaging Mode lessens satellite messaging if the assets remain in the same location for a predetermined period of time.
This solar-powered asset tracking device comes in simple packaging and requires no harnesses, external power, or external antennas. All you need are screw mounts or a stainless steel bracket for a quick and easy installation. Two dry contact or wetted-voltage inputs are available to manage engine run time, tank levels, and various alert inputs. The SmartOne Solar also has an automated alert function that sends you an alert anytime the tracked asset travels outside of a pre-configured range.
Technical Specs of the SmartOne Solar:
Dimensions: 3.25 x 7 x 1.125"
Weight: 13.5 oz
Battery type: Built-in rechargeable NiMH batteries
Operating temperature range: -30° to 75°C
Satellite technology: Global LEO Satellite operation using the Globalstar Simplex Data Network
IP69K and MIL-STD-810G standards
WEEE compliant
XT-4970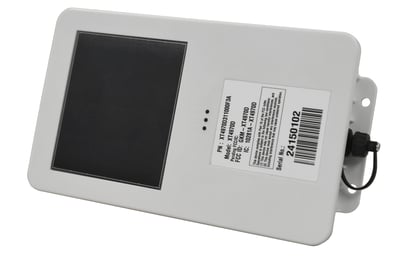 The XT-4970 GPS device is an energy harvesting, dual-carrier LTE platform that can track and monitor assets for long-term, remote deployment without needing a battery replacement. This GPS hardware uses a high-efficiency solar panel to charge and maximize the life of its Lithium-Ion battery, providing you with frequent data updates over longer periods compared to other asset tracking devices. Or, you can configure report times to extend its battery life.
The XT-4970 is designed and tested to meet IP67 rating, meaning the device is offered guaranteed protection if dropped into a body of water that is up to a meter deep for almost half an hour. Its fully-sealed and protective casing makes this device perfect for marine environments. Other special features of this solar-powered GPS device include:
An internal temperature sensor,
Over-the-air firmware for remote updating,
Integrated GPS receiver and antenna for tracking applications,
16Mb Flash Memory,
3-Axis Accelerometer and Motion Detector, and
Optional Bluetooth, ZigBee, and IO configurations with embedded antennas.
Technical Specs of the XT-4970:
Dimensions: 8.45 x 4.73 x 1.06"
Weight: 24 oz
Battery type: 10.6 Ah Li-Ion
Operating temperature range: -20 to 60°C
Battery life cycle: >4000
RastracGo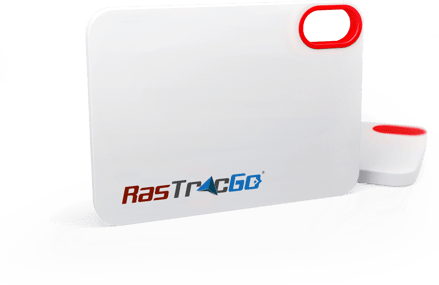 RastracGo is a small, portable tracker that is no larger than a keycard. Inside is a GT-200 tracking module and a SIM Card port (so it can use cell tower signals for asset tracking). This GPS device is designed with a keyhole so it can be easily secured to a keyring, and its compact size allows it to fit into any size shipping container, so you can track a variety of valuable assets, such as:
Electronics,
Medical equipment,
Tools and toolboxes, and
Geological surveying equipment.
Along with helping to prevent theft, RastracGo comes with built-in accelerometers, temperature and pressure sensors to detect changes in light, temperature, speed, and pressure. While it isn't a solar-powered asset tracking device, RastracGo offers two different types of battery saving modes:
GPS mode, or "regular mode," provides the most accurate location tracking data, but will significantly drain the battery, and
Battery saving mode, or "Cell-ID," which uses cell towers and offers less accurate data for longer battery life.
However, depending on your preferred settings, RastracGo's per-charge battery life can be anywhere from 2 weeks to 4 months! Also, with customized reporting, you can receive reports at specific intervals, from 30 minutes to a full day, which helps prioritize the GPS device's battery life.
It's important to keep in mind that there are one or two drawbacks to using a solar-powered GPS device — the first being bad weather. If it's raining or a particularly cloudy day, it could prevent your GPS hardware from charging efficiently throughout the day and maintaining a full charge. Second, since solar-powered asset tracking devices need constant exposure to sunlight, it makes it easier for thieves to spot the hardware and remove it.
Despite these drawbacks, solar-powered GPS devices are a highly beneficial option for enhanced overseas asset tracking. You can remotely track valuable assets and know they arrived safely to their designated locations. If you're interested in the tracking benefits solar-powered GPS devices can offer your business, contact a Rastrac representative today to learn more about our GPS hardware and tracking services!
Like what you're reading? Subscribe to our blog.
Get our latest posts straight to you inbox.