Fleet managers in every industry are looking for ways to make their operations more efficient. The ever-growing list of responsibilities can quickly build up, making it challenging to find time and methods to optimize operations. But, never fear: Rastrac's here to help.
With our easy-to-use fleet management tracking system, you can quickly access the data you need to make informed, actionable decisions. Rastrac's intuitive software dashboard provides you with the right tools to fit your business, including:
Interactive maps
Detailed reporting capabilities
Scheduling alerts
Vehicle tracking and monitoring
Driver tracking and profile information
So, how can you use the data from our fleet management solutions to optimize your operations?
Live Tracking Improves Visibility of Operations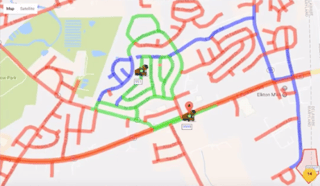 Having the ability to track your vehicles and other expensive assets in real time is an incredible advantage for fleet operations managers. GPS tracking enables you to know where your vehicles are at any time, whether they are on schedule, and is they are on their assigned route; this all helps to keep your operations efficient.
StreetComplete
For municipalities, in particular, Rastrac's StreetComplete tool is a great resource. This tracking tool enables fleet managers to track the locations of municipal vehicles in real time, as well as track the routes they have taken. Using the interactive dashboard, users can color-code routes and see where, when, and who has been through specific areas at any given time.
In terms of snowplows, sanitation pickups, and other route-related tasks, you can determine which areas have already been served and how long ago.
Geofencing
Another great tool for providing you with valuable data is Rastrac's geofencing tool. This robust feature is especially useful to fleet managers, law enforcement agencies, and rental companies. It allows you to target specific areas on a virtual map, outlining a perimeter that corresponds with real-world locations to track vehicles equipped with GPS devices. You can set up boundaries in specific shapes to meet your specific tracking needs, including circles, polygons, and corridors.
Another benefit of geofencing is that you can set alert notifications to inform you any time that one of your vehicles leaves a specified area. This will allow you to track arrivals and departures, and to ensure that your drivers are adhering to their assigned routes.
Increases Compliance, Mitigates Risks
Actively monitoring multiple areas of your fleet helps you to address inefficiencies within your organization and address dangerous behaviors and circumstances.
Vehicle Performance Monitoring
An important part of risk management is using telematics to make sure that your vehicles are operating in optimal condition. This not only helps to reduce costly repairs but also ensures that your vehicles receive regular maintenance to prevent breakdowns or accidents on the road that could put your drivers, and others, at risk.
Some of the telematics data you can monitor include:
Fuel usage
Vehicle or asset hours of use
Engine idling
Mileage
Whether maintenance has been performed
Monitor Driver Behaviors
A major benefit of GPS tracking for fleet management is that you are able to track and monitor each driver's behavior and efficiency. Drivers are responsible for getting assets to their destination in a safe, timely, and efficient mater. If they make frequent stops, take unauthorized routes, or drive at unsafe or inefficient speeds, that can cost your company valuable time, fuel, and money, as well as drive up your maintenance and repair costs.
Some of the things you can monitor include:
Traveling speeds
RPMs
Hard braking
Rapid acceleration and deceleration
Turning speeds
Helps You to Identify, Address Inefficiencies
By being able to access and monitor these types of data from your fleet management tracking system, you can identify and address any inefficiencies within your organization. Make your data work for you by gaining greater visibility of your overall operations.
If you're ready to take your fleet to the next level with an efficient fleet management tracking solution, be sure to check out our free resource by clicking on the banner below.
Like what you're reading? Subscribe to our blog.
Get our latest posts straight to you inbox.