Safely and accurately tracking temperatures on refrigerated fleets transporting perishable goods can present many challenges for truck drivers and fleet managers. The cargo must be quickly transported while remaining at specific temperatures throughout the duration of the trip to maximize product shelf life at its destination store. If a refrigeration unit in the truck fails for any reason, the entire freight can become compromised, resulting in thousands of dollars worth of lost products.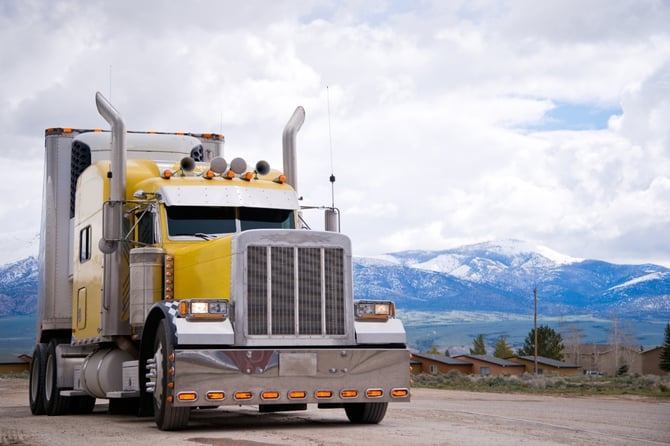 When conventional reefer (refrigerated) trucks are on the move, drivers can only assume that their refrigeration equipment is operating efficiently. However, to know for certain, they must pull over, open their cargo hold, and manually check the refrigeration levels to ensure they remain within the legal temperature range. This helps to make sure their sensitive cargo, such as food or pharmaceuticals, don't spoil or render ineffective during transport. However, if the temperature increases mid-transport, the driver would not know about it until their next stop.
The good news is that an effective fleet management solution, such as GPS tracking for refrigerated trucks, can help to solve this issue, ensuring your truck drivers stay on the road with fewer stops. It has the bonus of not only helping to increase the efficiency of your refrigerated fleet, but it will aid in increasing its overall productivity as well.
Rastrac's global positioning system (GPS)-based fleet tracking solutions are used by reefer trucks around the U.S. However, how do GPS tracking devices and hardware help you more accurately and conveniently track the temperatures of your refrigerated trucks?
Remote Diagnostics and Temperature Monitoring
Reefer trucks are equipped with internal temperature gauges to help drivers monitor and report the data. Unfortunately, this information typically can only be viewed while inside the cargo section of the truck. However, tracking temperatures on trucks doesn't always have to be a complicated experience. Many of today's modern GPS tracking devices can connect with those integrated systems to provide fleet managers with remote access to this real-time data.
Some of the types of temperature and general vehicle conditions you can monitor include:
Temperatures and any temperature fluctuations
Humidity levels
Defrost cycles
Door openings and closings
Power fluctuations and disconnections
Vehicle location
Vehicle movement
Receive Alerts and Notifications
Custom alerts can be set for each reefer vehicle to notify you about any issues as they happen. For example, if the temperature unit of a particular truck falls outside the preset threshold range, you can instantly receive a notification informing you of the discrepancy. The alerts can be sent in different ways, including an e-mail or text message, depending on a fleet manager's preferences. Regardless of the preferred notification method, these custom alerts can help you get in contact with your driver immediately and address the problem before it impacts the freight.
More Accurate Temperature Reporting
Automated temperature monitoring and reporting provides you with an impartial look at the condition of your cargo throughout the duration of any given trip. It provides you with accurate, actionable information that can help you identify issues and make decisions. It also provides an easy and efficient way for trip reports to be generated that accurately showcase the temperature readings which can be provided to customers.
Furthermore, using temperature logs that are manually input increases the likelihood of any errors. Errors in temperature reporting for refrigerated fleets can result from simple mistakes or intentionally misreported information by drivers who may want to cover up an issue or avoid a complaint. Despite the reason, with the help of the right fleet tracking and monitoring solution, you will have access to that information with the click of a mouse.
Additional tracking benefits that can assist refrigerated trucks include location tracking and geofencing tools. By being able to actively track your trucks in the field, you can not only help them avoid potential traffic issues as they occur, it also allows you to provide enhanced customer service to your clients. With geofencing, you can set a defined perimeter around specific areas that your vehicles operate to ensure they don't leave those locales.
Track Temperature-Sensitive Assets of Any Size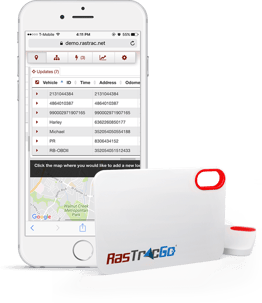 If you need the flexibility of tracking large freight or small packages, Rastrac's fleet tracking team of experts has come up with a new solution to meet your needs. RastracGo, our new portable fleet management and asset tracking solution, is small and light enough to fit just about anywhere — including an envelope.
The device integrates with your existing live tracking software, providing enhanced monitoring capabilities for several different conditions, including temperature. It can detect ambient temperature, humidity, light, noise, acceleration, and pressure.
There are many benefits to tracking temperatures on trucks for any refrigerated fleet manager. To learn more about how an effective asset tracking system can help your business, check out our free resource by clicking on the banner below.
Like what you're reading? Subscribe to our blog.
Get our latest posts straight to you inbox.