In the event of an emergency, such as a natural disaster like a tornado, flood, or earthquake, time is of the essence. Having the most effective communication and the most information possible are critical to ensuring the fastest and safest response times. It also helps to ensure the safest and most effective deployment of resources and personnel.
Law enforcement GPS tracking solutions, including GPS vehicle tracking devices and software, are rapidly becoming essential resources and help police and other law enforcement agencies solve various fleet management issues.
In disaster relief and public safety, GPS fleet tracking systems are indispensable and are used for a variety of functions, including:
Wildfire management,
Search and rescue operations,
Tracking and locating personnel in the field,
Navigation of impassable roadways, and
Storm tracking.
Law Enforcement GPS Tracking & Communication Solutions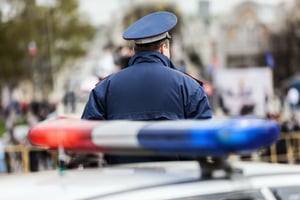 There are several incredible fleet tracking systems and communications solutions available for public safety officials and first responders to use in the field. Here is our list of five definitive law enforcement GPS tracking and communication solutions that should be used by law enforcement agencies for greater efficiency and effectiveness in communications and fleet management.
1. FirstNet
FirstNet, built by AT&T, is the nationwide Public Safety Broadband Network established by Congress and purpose-built with first responders in mind. Launched in 2017, FirstNet offers first responders and entities who support them a dedicated and secure solution, including a physically separate network core and application ecosystem, to which more than 2,500 public safety agencies have already subscribed.
This initiative, which is being implemented by AT&T, aims to build a network that is designed to meet a 99.99% end-to-end serviceability objective that is unparalleled by any other large-scale LTE network providers worldwide. It recently includes the addition of Band 14 deployment to more than 2,500 sites across the U.S. alone.
Its First Priority™ function puts law enforcement and other first responders first by allowing them to have connection priority over non-emergency users with no throttling of user bandwidth in the U.S. Because communication is essential to their jobs, this functionality aims to ensure that they have the bandwidth they need to respond to emergencies and save lives.
2. Law Enforcement GPS Tracking Systems for Vehicles & Personnel
Among some of the most pressing needs in an emergency situation — such as dealing with the impacts of Hurricane Florence, or the aftermath of a tornado, or the wildfires in California — is police GPS tracker location information. Knowing where help is needed most initially — and being able to assign out additional personnel to those locations as needed — is more straightforward with law enforcement GPS tracking.
Some GPS tracking devices, such as the compact GL300VC, are even motion-activated. This means that whenever the device is moved, it will send alerts immediately to the fleet manager. These devices can be used on vehicles or various types of equipment. This portable unit can be easily mounted to provide accurate location tracking (with a three-axis accelerometer to provide instant motion detection alerts). Because of its smaller size and thumb-sized activation button, it's also convenient to use as a police GPS tracker for tracking first responders when they are out of their vehicles in the field and are walking around.
3. Geofencing Solutions and Alert Notifications
When you have GPS vehicle tracking devices installed inside your marked and unmarked units and use GPS fleet management software, you can monitor when vehicles enter or leave high-risk areas or danger zones. Geofencing allows you to define the virtual boundaries that correspond to real-world geographic locations. This enables you to be alerted via text or email any time that someone enters or leaves the specified area in a tagged vehicle.
What's even better is that with Rastrac's agile fleet management software for law enforcement GPS tracking, you can also set up smaller geofences inside of your larger geofences.
4. Preventative Fleet Vehicle Maintenance Scheduling
When the roads are flooded, or when fires are raging, it's imperative that your officers are operating in well-maintained vehicles. One way to help ensure that your fleet vehicles remain in peak condition is through the regular scheduling and performance of preventative fleet maintenance (sometimes called preventive maintenance).
Preventative maintenance helps you to ensure that tires are rotated and aligned, oil and coolant are topped off or changed out, and more to help you avoid sudden, catastrophic vehicle failures. The right law enforcement GPS tracking solution enables you to collect vital data about each of your vehicles, including:
Hours of operation and activity,
Odometer readings and distance traveled,
Engine performance and diagnostics data,
Driver behaviors that showcase how each vehicle is used.
To monitor this information, it's essential to ensure that the GPS vehicle tracking devices you choose can track telematics and fleet diagnostics data.
5. Live Tracking to Show What Areas Have Been Patrolled
The final solution we're going to mention is the use of live tracking for GPS fleet tracking systems. Live tracking shows you, in real time, what areas have been recently serviced or patrolled on a color-coded map that "ages" as time progresses. This shows the amount of time that has passed since someone patrolled that specific area.
Although we originally created this tool, StreetComplete, for tracking snowplow operations, the Rastrac development team rolled it out so that it is available to other areas of work, including law enforcement and other first responder organizations for both daily operations and large-scale emergency response situations.
Law enforcement GPS tracking solutions have come a long way in recent years. To learn how GPS fleet tracking systems can help your specific agency during natural disasters or with daily fleet management operations, contact our team of experts. Also, be sure to download our public safety feature sheet by clicking on the link below.
Like what you're reading? Subscribe to our blog.
Get our latest posts straight to you inbox.