When it comes to the wrath of Mother Nature, there are few things that can compete with the power of a hurricane. When hurricane season rolls around each year on June 1, businesses and public service vehicle fleets need to be prepared in case a storm is spinning toward their location and is ready to bear down.
According to the National Oceanic and Atmospheric Administration (NOAA), the 2017 hurricane season produced 17 named storms, including 10 hurricanes of which six were major storms ranging from category 3 to category 5. These numbers made 2017 the seventh most active storm season on record since 1851.
Hurricanes should not be taken lightly. These storms bring with them torrential rain, powerful winds capable of tearing down buildings and knocking out power, and storm surge in coastal areas that can reach between 8 and 20 feet. That's enough to put entire one-story houses and other buildings under water.
All these factors pose extreme risks to public and commercial vehicle fleets. But, what can you do as a fleet manager to prepare your fleet for the impending storm and keep fleet vehicles and drivers safe in the aftermath?
GPS Tracking for Fleet Management
Using GPS tracking for fleet management provides several invaluable benefits to your vehicle fleet, including:
Live location tracking
Geofencing
Route optimization
Vehicle remote diagnostics
GPS Tracking Helps You to Track Fleet Vehicles in Real Time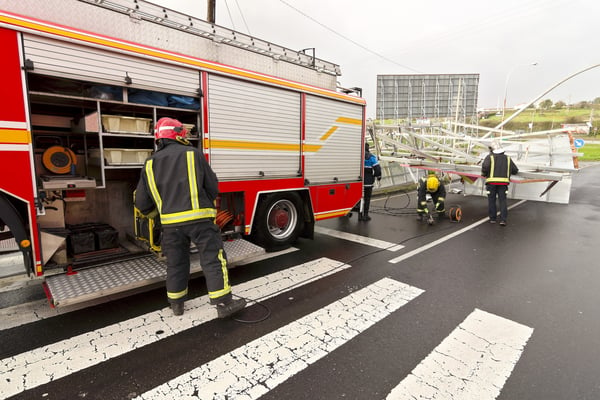 Both during the hours leading up to the storm's impact and in its aftermath, being able to track the locations of vehicles and their drivers is key to ensuring the safety of your vehicle fleet. With GPS live tracking solutions, you can track and monitor the locations of your vehicles anytime, anywhere. The tracking software allows you to access detailed reports that inform you about where each vehicle has been, who has been operating any specific vehicle, and for how long it has been running.
GPS Tracking Remote Diagnostics Helps to Prepare Fleet Vehicles
It is not uncommon for emergency responders, such as medical personnel and law enforcement, to cease services during the height of a storm. This helps to keep them safe so they don't become casualties on the road. However, when the height of the storm passes, they need to quickly be put back in action on the roads to provide fire and medical services to those in need and to keep law and order.
In the event of a hurricane, an effective GPS fleet management system can help you to ensure that every fleet vehicle is prepared for the storm and the aftermath. One of the ways it can do this is using remote diagnostics, which can help you track which vehicles require preventative maintenance. Some GPS tracking devices can do this by connecting to your vehicles' onboard diagnostics system, which allows you to track key engine performance data. You can use this data to prepare a list of replacement parts that you can have on hand in the days, weeks, or even months after the storm when parts are hard to come by.
Using remote diagnostics can help you to verify to the best of your ability that every fleet vehicle is operating in optimal condition after the storm passes.
GPS Tracking Tracks and Monitors Migrated Fleet Vehicles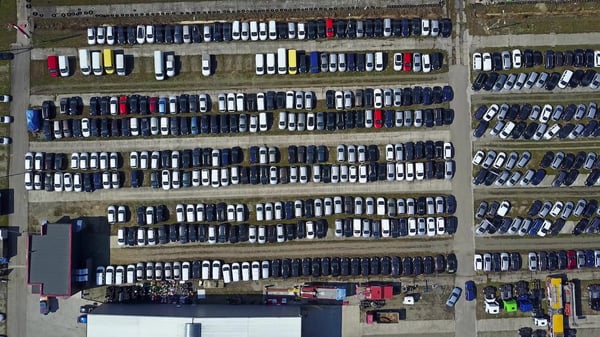 Another tactic that some commercial or public service vehicle fleet managers use is to migrate their fleets to a safer location to avoid rising water. This may entail moving them to higher ground, such as storing them inside the elevated levels of a parking garage, or it may mean moving them to a location further inland. Either way, you'll want to keep tabs on those vehicles to confirm that they remain in the location where your drivers have left them.
Using reliable GPS tracking software, you can track vehicles tagged with GPS trackers on the interactive map. You can then set up a virtual perimeter that corresponds to a real-world location using Rastrac's geofencing software tool. If any tagged vehicles enter or leave that area, you'll be notified via a text or email alert. Furthermore, you can track vehicles when they are on their way back from their migration storage location using the geofencing by corridor tracking tool. This helps you to track whether vehicles adhere to their assigned routes or may deviate from their course due to road conditions or personal reasons.
When it comes to responding to emergencies, such as those that result from a hurricane making landfall, emergency crews need to be on top of their game to save lives. Because time is of the essence, GPS tracking is a must for emergency responders as well as the municipal and utility crews that maintain and repair necessary infrastructure. Even the fleets that help transport necessary supplies have a need for the technology.
Learn how you can do more to protect your law enforcement personnel and your community with agile and reliable GPS tracking solutions. Download our free guide now by clicking on the image below.
Like what you're reading? Subscribe to our blog.
Get our latest posts straight to you inbox.