At Rastrac, we understand that operating a landscaping or lawn care company is a lot of work. There are many things to keep track of and monitor throughout the day, all while trying to ensure that you and your team provide the best possible service to your clients. We work with lawn care companies and municipalities around the country to provide solutions to make their operations more efficient and to make the lives of their owners/operators easier.
In a previous article, we shared how landscaping/lawn care companies can benefit from using global positioning system (GPS) tracking solutions for their business. In that article, we shared the story of one of our clients, a landscaping company owner who described a few examples of how our asset tracking solutions helped his business.
We're here to convey how it can also help yours. Here is a list of the top four reasons why lawn care companies need to implement an asset tracking solution this season (or any season).
1. Increase Employee Accountability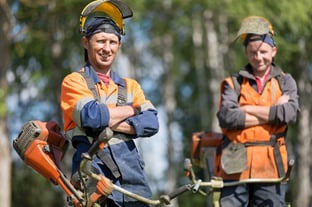 Whether you're running a business from your home office, or if you're out working with one team yet have other teams operating at other locations, it can be hard to make sure that everyone is doing what they're supposed to be doing.
While having vehicles that are equipped with GPS asset tracking devices, you can know exactly where your vehicles are at any given time. Using your mobile device or computer and Rastrac's live tracking software, you can see where your employees are and call them if there is an issue. Additionally, you can monitor when vehicles enter or leave specific geographic locations through the use of geofences.
Rastrac's geofencing technology allows users to create virtual perimeters that correspond to real-world locations. This tool can be used to create boundaries of practically any size and a series of set or customizable shapes. An added benefit is that you can set alerts to text or email you whenever one of your tagged assets leaves one of your specified areas.
2. Reduce Payroll and Overhead Costs
Using an efficient and reliable asset tracking solution can save your business money. Using asset management software, you can know when employees report to work sites, such as a client's house for a private lawn service, or a specific area for a municipal public works department team. Armed with GPS tracking software that can automatically generate reports, you can effortlessly enjoy the data that is at your disposal and help you stay informed to make better decisions.
Many Rastrac GPS tracking devices integrate with your vehicle's on-board diagnostics system. This enables the device to tap into and monitor a variety of factors, including:
Vehicle location
Engine performance
Driver behaviors
The condition of your asset
Another advantage of using a GPS asset management software is that you can ensure that your payroll is accurate. By knowing exactly when teams reach and leave assigned job sites, you experience more accurate timecard tracking. This can reduce excess hours that otherwise result from human error or from being intentionally misreported, thereby decreasing your organization's overhead costs.
3. Increase Your Organization's Productivity and Efficiency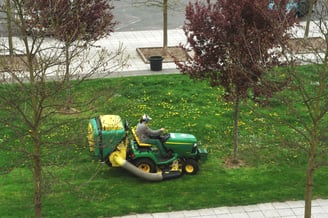 By knowing where your fleet vehicles are during the day, and how well your vehicles are performing, you can make better and informed decisions each day. This can enable you to make changes or address inefficiencies within your organization that can help you to achieve operational excellence.
For example, if you realize that your employees are spending too long at one location, you can reach out to them to get an update or see if there is an issue that needs to be addressed. Or, if you realize that you need to create some standardized practices, asset tracking can help you make sure that everyone is on the same page and enforce them. With an agile and reliable asset management system at your service, the possibilities (and benefits) are virtually endless.
4. Provide a Higher Level of Service to Customers
When you combine all these different benefits that result from an efficient and effective asset management and tracking solution, it can place your company at an incredible advantage over your competitors. This combined benefit will be felt in other areas — especially the quality of service your company offers to your customers each day.
When scheduling new customers, you'll have a better idea of how much of a workload your team(s) can handle in a day, week, or month. And, by making your business more efficient and reducing overhead costs, the benefits can translate to a better price to your customers.
To learn more about how you can improve your asset tracking capabilities with Rastrac, click on the banner image below to get access to our free guide.
Like what you're reading? Subscribe to our blog.
Get our latest posts straight to you inbox.