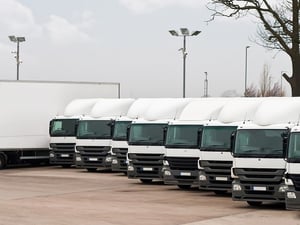 Driver safety is a critical issue in the transportation industry. According to data from the National Highway Traffic Safety Association (NHTSA), "in 2014 there were 3,903 people killed and an estimated 111,000 people injured in crashes involving large trucks."
The causes of these collisions range from poor maintenance, to inattentive driving, to bad road conditions, to driver fatigue and more. Every year, regulatory agencies try to increase safety by adding new regulations and standards to minimize the impact of specific risk factors.
One example of this is the Federal Motor Carrier Safety Administration's Hours of Service (HOS) compliance standard, which restricts how much time drivers can spend behind the wheel of a commercial vehicle and when. These compliance standards have helped to reduce driver fatigue as a contributing factor in large truck crashes.
Recently, a new rule was passed for the HOS compliance standard. This new rule governs the use of electronic logging devices (ELDs) for HOS compliance. So, what are the requirements of this new rule, and how can you meet them?
The New ELD Rule's Guidelines
While the full text of the rule is much more involved, some basics of the rule include:
Who's Required to Use ELDs. All drivers who have to prep an HOS report for records of duty status (RODS) in the USA must use an ELD. This includes drivers from Canada and Mexico who drive through the U.S.
Documentation Requirements. Drivers using an ELD must have an information packet about ELDs that includes a user's manual, instruction sheet for producing and transferring HOS records to safety officials, instructions for reporting malfunctions, and a supply bank of RODS graph grids to record driver duty status for a minimum of 8 days.
Types of Devices that Can Be Used as an ELD. ELDs may include integrated devices that are made a part of the vehicle as well as smartphones or other wireless devices—so long as they meet the right technical specifications.
How Long ELD Records Must Be Retained. Motor carriers need to hold onto RODS data from ELDs for at least six months. This includes a backup copy of the data that exists on a separate physical device.
Exemptions. The rule does outline some exemptions for drivers that use paper RODS less than 8 days out of any 30-day period (note, not month, but any 30 continuous days), drivers in drive-away-tow-away operations where the vehicle driven is the commodity delivered, and drivers of older vehicles produced before 2000.
The above list is a condensed form of the requirements list, and I would strongly recommend reading the original document from the FMCSA for more information.
Meeting the Standard with GPS Tracking Devices
GPS tracking technology can be a key tool for meeting ELD compliance standards. However, there are some key technical specifications that a GPS tracking device must meet to satisfy the requirements for use as an ELD for HOS compliance, including:
Integral Synchronization. The ELD must be able to synchronize with the vehicle's engine to capture data for engine power status, vehicle motion, miles driven, and engine hours.
Location Information. The ELD must make automated location report entries at every:

Change of duty status
60-minute interval
Engine-on and engine-off
Beginning of personal use and yard moves, when applicable

Provide a Graph Grid Display. To be counted as an ELD, the GPS system must have the ability to present a graph grid display of the driver's daily duty status either on a screen or in a printout.
Driver Advisory Messages. If a driver is driving during unassigned times or for unassigned miles, there should be a warning provided upon login to the system.
Default Duty Status. Should only be applied when drivers are on-duty and not driving, when the vehicle has not been in motion for 5 consecutive minutes, and the driver hasn't responded to a prompt for over 1 minute. NO OTHER NON-DRIVER STATUS CHANGES ARE ALLOWED.
Clock Time Drift. All ELDs should be synchronized to the UTC date/time, and not deviate by more than 10 minutes.
Communication Methods. There are two options here, and both must be able to display ELD data sent to authorized safety officials on a display or printout:

Telematics. At a minimum the ELD has to transfer data via both wireless web services and wireless email.
Local Transfer. The ELD must transfer data by Bluetooth and by USB 2.0.

Tampering Resistance. The device must not allow for alteration or deletion of original information collected by the device. The ELD must additionally support data integrity check functions.
Identification of Sensor Failures and Data Edits. ELDs need to be able to detect malfunctions in the vehicle and record these occurrences. Inconsistencies in data that might indicate tampering must also be recorded.
That's a lot of specifications that HOS ELD compliance demands from a tracking device.
However, with the right GPS tracker, it's easy to meet these requirements.
For example, a GPS tracking device can tap into a vehicle's onboard diagnostics system, providing remote diagnostics of key engine performance statistics and diagnostic sensor warnings. This meets both the "Identification" and the "Integral Synchronization" requirements listed above.
Additionally, by pairing a GPS device with a fleet management software, it's easy to create a remote backup of the data on the device and remotely monitor the information for signs of inconsistencies.
By default, GPS tracking can provide current location information—the biggest challenge is making sure that the information update schedule is adhered to and that the driver has an onboard display for accessing data to present to authorities.
For an experienced fleet telematics partner, meeting the demands of the HOS ELD compliance standard by the 2017 deadline is a simple matter. Do you have the right partner to help you with your fleet compliance?
Like what you're reading? Subscribe to our blog.
Get our latest posts straight to you inbox.