Every year, more and more companies are adopting GPS vehicle tracking for their business fleets. However, many companies have more to track than just vehicles.
The trailers and flatbeds carried by semi-trucks are also an important resource for many companies—not to mention the cargo that they carry. This is one reason why it's important to manage your assets with a trailer tracking solution.
Why Track Trailers and Shipping Containers?
For some companies (such as those who rent out trailers as equipment), having a trailer-mounted GPS unit is an obvious benefit. But, why would companies that already have GPS tracking devices on their vehicles want to apply yet another GPS tracking unit to their trailers and shipping containers?
A few good reasons include:
To Improve Antitheft Measures. Crooks are getting wise to the use of GPS for fleet vehicles. They may try to find and disable the GPS tracker in the vehicle or even hook up the trailer to a second vehicle to try and foil your GPS antitheft device. Having a second GPS trailer tracking device helps reduce the chances that a thief can simply hook and book one of your trailers and get away with it.
Increased Awareness of Events in the Trailer. With the use of trailer tracking devices comes the opportunity to track numerous pieces of information, including door open/close events, trailer temperatures in refrigerated trucks, trailer power status, and more.
Greater Ease in Finding Trailers on the Lot/Pooling Yard. For larger businesses with massive pooling yards, quickly finding a specific trailer is nearly impossible—unless you have a GPS tracker inside. Rather than wasting hours tracking down one incorrectly parked trailer by the serial number on the door, you could check the GPS tag's history to see where the trailer was last parked and narrow the search down to within a few feet.
Companies using refrigerated trucks find having a separate GPS tracking device for the trailer of a vehicle particularly useful. These companies can use the records of the trailer temperatures recorded by the GPS unit to prove their compliance with key food safety standards.
One company that rents reefer trucks was able to use the remote diagnostics provided by their trailer-mounted GPS unit to identify a power failure in a rented truck. They reached out to the client right away and helped save a shipment of perishable goods by having the driver reconnect the trailer to the truck's power supply.
Types of Trailers to Track
There are many different kinds of trailers that can be attached to semi-trucks and other transportation vehicles. Some examples of the different types of trailers that can be tagged with GPS trailer tracking devices include:
Flatbed Trailers. Large, open-topped platforms with wheels that can hold bulky loads that wouldn't fit in a dry van container.
Dry Van/Enclosed Trailers. The "traditional" semi-truck trailer that most people think of. Provides a complete enclosure to protect delicate cargo.
Refrigerated "Reefer" Trailers. Externally, these trailers look like dry van trailers. However, refrigerated trailers are climate-controlled to properly house temperature-sensitive cargo.
Step Deck/Single Drop Trailers. Single-drop (step deck) trailers are a flatbed variant that has a drop down that places them low to the ground behind the connection to the semi-truck. The deck's low ride height is often ideal for loading/unloading with a forklift and for carrying tall loads.
Double Drop/Lowboy Trailers. A flatbed with a drop at both the front and rear wheel axles, creating a vaguely U-shaped trailer that rides extremely close to the ground. Often used to transport very large or heavy equipment.
Petroleum/Hazardous Chemical Trailers. Cylindrical trailers that are used to transport large quantities of liquid petroleum products or hazardous chemicals for various industries. Some companies use purpose-built specialty trailers for specific types of chemicals.
Each of these different trailer types have their unique uses—and unique challenges for semi-trailer tracking systems. For example, open-topped trailers (like flatbeds) may expose GPS devices to wind, rain, and other natural hazards. Meanwhile, refrigerated trucks may need remote temperature monitoring on top of location tracking to ensure product quality and safety.
Hazardous chemical trailers might need specialized sensors to detect potential leaks and remotely warn fleet managers about them. In short, GPS trailer tracking solutions may need to accommodate a variety of conditions or have specific features to provide the best possible benefits for different truck fleets (or different truck trailers within the same fleet).
Trailer Tracking Features to Consider
What are some of the features of GPS trailer tracking devices and software? Which features should fleet managers look for in a GPS device? Some common features of trailer tracking GPS devices to consider include:
Power Supply. How is the GPS device powered? Can it hook into the truck's power supply? Is it solar powered? Or, is it battery operated? Each type of power supply has its own advantages—such as solar GPS devices not needing frequent recharges on long trips (if they can get sufficient sunlight), truck-powered devices being able to provide frequent updates, or battery-powered solutions being a great anti-theft tool if someone "hooks and books" with a trailer.
Weather Resistance. For GPS devices mounted on open-topped trailers (like flatbeds), how resistant is the trailer tracker to wind, rain, and other adverse weather conditions? Finding a weather-resistant trailer GPS is a must for devices that will be exposed to any kind of weather extremes.
Asset Management Software. Does the GPS tracker come with a locally installed or web-based asset management software? Is the device compatible with any software you're already using? GPS software is crucial for getting the most out of your semi-trailer tracking systems.
Device Specifications. Trailer tracking solutions can have all kinds of technical specifications to consider—such as their configuration, antenna type, whether they have an accelerometer, messaging systems, Bluetooth communication, input/output ports, and more. Taking the time to review the technical specifications of a GPS device can help you find the one that best fits your needs.
Trailer Tracking Devices
What are some trailer tracking devices that you could use to monitor the semi-truck trailers in your fleet? There are countless GPS trackers on the market to consider, but here are a few popular choices used by Rastrac's customers:
TTU-730. A small, compact anti-theft asset tracking GPS device with a 7 year battery life when sending a single GPS message per day. Great for asset managers who need an easy-to-hide trailer locator to counteract potential theft.
TTU-2830. A robust little GPS tracker with a 3 axis accelerometer and an input to accept temperature sensor data. Ideal for reefer trucks.
GL300MA. A water-resistant GPS that can be mounted in a trailer or carried by hand. A thumb-sized button on the device allows drivers to send an emergency alert if needed.
SmartOne Solar. A solar-powered, low-maintenance satellite device that provides remote monitoring and tracking. Has an automated alert function for if the tracker senses a change of location outside of a certain range that makes it an ideal anti-theft solution.
How to Get Started
To get the most out of a trailer GPS tracking solution, you'll need to consider what kind of tracking solution you want, set policies for using GPS data, and really get to know the system you pick.
For example, do you need a battery-powered GPS tracking device, or one that taps into the power supply used by the trailer. Refrigerated trailers need to be powered to provide refrigeration, so GPS units on these trailers are often tied into the trailer's electrical system. This allows the GPS tracker to transmit data for as long as the trailer has power.
Battery-powered units, on the other hand, can work regardless of the trailer's power status, but need regular battery recharges/replacements to keep working.
One consideration to keep in mind is that before you can get usage data such as door open/close events, internal trailer temps, etc., your trailers need to have the ability to collect that data. For example, most refrigerated trailers should have a system in place for monitoring internal temperatures that a GPS tracker can plug into, but door sensors may not be present on all units.
Be sure to check with the GPS manufacturer what capability the tracker has and how the software for managing the GPS units can be used. Simply knowing the capabilities of the tracker and the software can have a huge impact on how well your company adopts them.
Of course, having a GPS solution provider who's willing to work with you as you learn how to use their software and devices doesn't hurt.
Getting started is as simple as reaching out to the right provider.
Like what you're reading? Subscribe to our blog.
Get our latest posts straight to you inbox.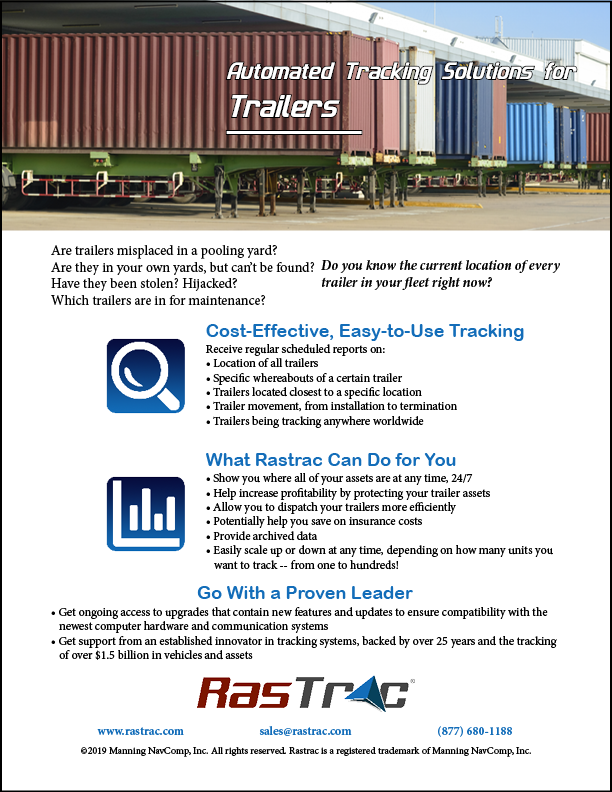 Automated Tracking Solutions for Trailers
Download the feature sheet to learn more.
Download Now