An effective fleet management system can benefit not only your overall company but the employees working within it as well. When coupled with global positioning system (GPS)-based tracking devices, fleet management software can provide:
operations managers with the data they need to run their fleet more efficiently,
risk managers with data to help enhance compliance initiatives, and
drivers/operators with benefits that make their daily responsibilities easier and less time-consuming.
While this sounds like a win-win situation for everyone, you may find yourself experiencing some pushback from employees when seeking to bring a fleet management system onboard. If your organization does not currently utilize a fleet management system, some people may be hesitant or afraid of things they don't know. For others, their concerns may lie in the thought of having to learn a new system if you're looking to replace an aging or ineffective system.
So how do you sell your employees on this concept and get their buy-in? We have compiled a list of things you can highlight that may help win them over:
Benefits of a Fleet Management System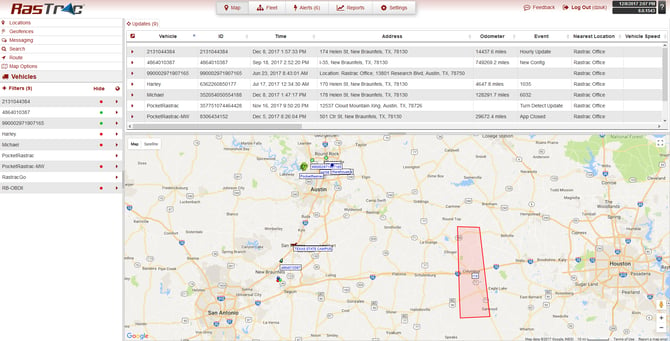 With a Rastrac fleet management system and tracking devices, many employees can enjoy a number of features as well as improvements and enhancements to the following:
A User-Friendly System. Rastrac's comprehensive fleet management dashboard is intuitive and easy to use. It provides access to live tracking on the map, up-to-date vehicle statistics, alerts, report generator, and more.
Paperwork and Report Responsibilities. Drivers or operators can spend less time filling out paperwork because of active monitoring. Additionally, operations managers can spend less time manually creating reports, as reports can be set and automated to produce daily, weekly, or monthly reports that track usage, temperature, and other variables.
Route Optimization. Drivers are able to receive up-to-date information from their fleet manager regarding traffic, road closures, accidents, and other road obstructions that may hinder their productivity. For fleet managers, this means that drivers will spend less time driving for each job and can accomplish more jobs.
Improved Maintenance Scheduling. Using GPS devices with remote diagnostics can help operations managers identify vehicles that need preventative maintenance and set reminders to ensure they are maintained regularly. Dealing with small fixes before they become big problems can not only save money, it also can help to ensure your vehicles are in working order so drivers can do their jobs and earn their paychecks.
Risk Management. The data provided by an effective fleet management system helps to provide a safety net to help exonerate innocent drivers and operators in the case of a lawsuit from a third party. It also can help your risk manager ensure compliance and improve processes and policies for your organization.
Geofencing Capabilities. If your company rents vehicles or equipment out to third parties, you likely know the headaches that can occur with contract enforcement. By setting up geofences in your fleet management software, you can receive alerts that will notify you if and when your fleet vehicles or equipment travel outside the areas agreed upon in your rental agreement — and now you'll have the documentation to back you up when you speak to the renter.
Enhanced Theft Deterrence. High-value assets always present temptation for thieves, which makes your cargo, vehicles or equipment ideal targets. Thanks to the integration of GPS technology, you can know where your vehicles are located and when they're on the move.
Quality Service. Simply put, we take care of our clients. We offer technical support online, over the telephone, and via email to meet your needs. Additionally, our Online Knowledge Base providers users with access to hundreds of articles on our web-based tracking solution, how-to tip sheets, and other helpful resources.
Since 1993, Rastrac has been providing fleet management solutions for government entities and commercial organizations alike, and is currently tracking more than $1.5 billion in vehicle and equipment assets for our clients. Our agile and versatile platform helps us to meet your specific outside-the-box needs and enables us to continuously offer more complete solutions as those needs evolve.
If your fleet operations would benefit from a fleet management system, contact us today to get started.
Like what you're reading? Subscribe to our blog.
Get our latest posts straight to you inbox.