When planning a new budget, it's sometimes hard to know what unexpected operational challenges your organization may face and how to plan for them to avoid common — and not so common — budgetary pitfalls.
Rastrac has put together a useful guide to show how a fleet management or asset management system can benefit your organization, no matter what time of the year you choose to invest.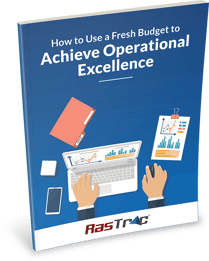 In this guide, we'll review how using a GPS tracking solution for businesses, municipalities, and other government organizations can:
Enhance analytics and data to reinforce decision making,

Increase traceability of assets with security and theft deterrence,

Improve performance and safety with driver accountability,

Reduce liability issues with improved risk management, and

Enhance the cost-effectiveness and improve your bottom line.
Fill out the form to the right to learn more about how you can achieve operational excellence.