As a society, we rely on law enforcement to protect us, but these officers need protecting too. With GPS tracking solutions, our community's overall safety can greatly improve.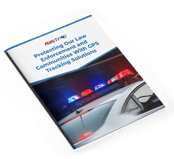 How do we advance the safety of our officers and protect our citizens?
In this Ebook, we'll review how using a GPS tracking solution in Law Enforcement can:
Enhance backup response times
Track officers location in real-time
Improve patrol efficiency
Prevent vehicle theft
Fill out the form to the right to download our Ebook.