Learn how Polar Leasing, North America's largest fleet of

portable refrigeration units

, experienced the theft of one of their refrigeration units - and recovered it thanks to Rastrac's asset tracking!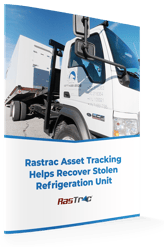 Since partnering with Rastrac in 2018, Polar Leasing has been able to track the exact location and internal temperatures of their nearly 2,000 refrigeration units all over the country - giving them peace of mind about their asset locations and safety. Polar Leasing learned just how valuable Rastrac's GPS tracking technology truly is when one of their refrigeration units was stolen!
Fill out the form to access and download our case study, Rastrac Asset Tracking Helps Recover Stolen Refrigeration Unit to find out how Rastrac's GPS tracking allowed them to:
Pinpoint the remote location of the unit quickly and efficiently once it had been stolen

Recover the asset and prevent the criminals from making off with the company's property for good!

Enjoy peace of mind knowing that they can prevent the theft of their assets - no matter where they're located and how remote they are!
"The real-time GPS location that the Rastrac device provided was the only way for us to find and repossess our stolen Polar Leasing unit. We were pleased to utilize the Rastrac device, not only for tracking deliveries and temperature monitoring, but also for recovery purposes. Without the Rastrac device, our Polar Leasing refrigeration unit would still be missing."
-Polar Leasing
Ready to get the full story? Fill out the form and download the case study to check it out now!