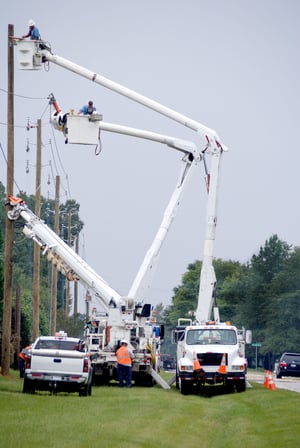 Utility companies have numerous challenges to overcome if they're to make the best use of their resources in the field. Between making sure that utility workers in the field are using their time efficiently, responding to random emergency service calls, and ensuring that routine tasks such as maintenance and meter readings are completed in a timely manner, fleet managers in utility companies have their work cut out for them.
However, there are tools that can make tracking the activities of your field assets easier. For example, GPS tracking systems and specialized management software can help utility companies improve field operations in several key ways, including:
1: Verifying Agent Location for Meter Readings
One of the most common points of dispute between consumers and utility companies is their meter readings. If meter readings aren't handled in a consistent and reliable manner, it can cause complications.
For example, say a house or street is missed during one meter reading cycle. These customers could be given an erroneous bill that reads far below what it should be on one billing cycle, and far higher on the next, raising red flags and leading to frustration.
GPS tracking systems for your fleet vehicles can help avoid this issue by tracking where your fleet vehicles are during your meter reading cycles. By tracking position history, you can verify that the vehicle, and the field agent using it, were in place to take the meter reading for each customer at the appropriate time.
2: Improved Dispatch for Emergency Service Calls
The infrastructure required to deliver modern utility services is incredibly complex. Unfortunately, this complexity means that there are innumerable points of failure that can disrupt services for water, electricity, telecommunications, etc.
To keep up with these demands, modern utilities need to maximize the efficiency of their response to emergency service calls.
Utility GPS tracking systems help make this easier by providing a clear-cut map of the current position of all your active field assets, allowing your office to identify the vehicle closest to the site of the service outage, minimizing time to dispatch.
This means less time waiting for work crews to get to work restoring service when outages occur, reducing frustration for customers.
3: Resolving Disputes About Services Rendered
Disputes about whether or not a utility crew reached a work site on time for a pre-scheduled service are fairly common. Resolving these disputes can be a pain, however.
Sometimes, a work crew misses the scheduled appointment because of unrelated issues and the customer is unavailable by the time they arrive. Other times, the crew may be on time, but not be able to access the building/work site because the other party is late.
When using GPS tracking for utilities, you can log where work vehicles have traveled and when they were there, making verifying the timeliness of your work crews a relatively simple matter. If a dispute arises, you can check the tracker history for that crew's vehicle, and see whether or not they were on time.
If a work crew is going to be late, you can contact the customer and inform them ahead of time, and possibly even give an ETA for the crew's arrival. This lets you work out whether or not you need to reschedule the service right away, saving time and proactively helping to reduce customer frustration.
These are just a few of the ways that utilities can use GPS tracking systems for their vehicle fleets. Learn more about how to maximize fleet efficiency with StreetComplete today!
Like what you're reading? Subscribe to our blog.
Get our latest posts straight to your inbox.