Officially, the Atlantic hurricane season starts June 1st and continues through November 30th. Currently, the Atlantic forecast includes twelve named storms, six hurricanes, and two major hurricanes for the 2017 season.
Unfortunately, hurricanes can cause widespread damage to local infrastructure, including roads and public transportation. GPS tracking is invaluable during periods of severe weather for emergency response teams, paramedics, fire departments, and police.
A major challenge during hurricane season can be keeping the streets clean so that road conditions remain passable for both citizens and emergency responders. GPS tracking helps street maintenance personnel stay on top of problem areas and promptly respond when necessary. With GPS guidance, street cleaning is accomplished efficiently and continuously.
Following are some of the benefits that GPS tracking provides for street clean-up crews.
Enhance Employee Safety
Harsh, stormy weather creates many hazards for any workers that drive for a living. Crews may need to be called out to cover areas that have been decimated by a hurricane. GPS contributes to employee safety by providing:
Driver Visibility
GPS displays vehicle location at all times so that if there is any type of emergency, sending help can be simple. Without GPS, locating a driver who needs emergency help could be very difficult. Thus, GPS tracking can mean the difference between life and death.
Emergency Alerts
Some GPS tracking devices include a panic alert button that can be instantly activated during an emergency. When pressed, the button sends the alert to the command center, and assistance can be sent out immediately to the designated location.
Stay Informed of Weather Patterns
GPS tracking gives fleet managers, dispatchers, and drivers access to a weather overlay feature, which supplies continuous severe weather updates. Drivers who are at risk can respond accordingly to dangerous weather notifications.
GPS Location and Monitoring Features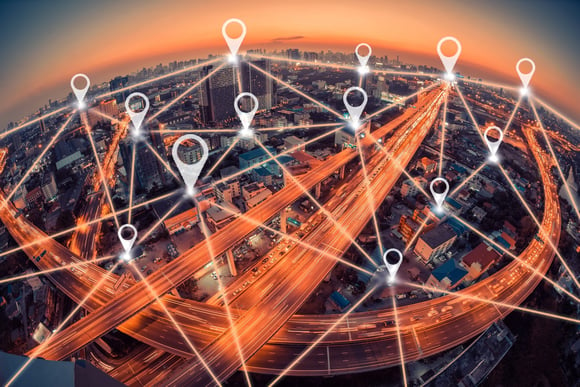 GPS tracking devices give fleet managers real-time locations and engine status of all fleet vehicles. This complete visibility allows managers to make the best decisions for deployment. Traffic and weather patterns can be viewed using GIS data overlays, which allow routes to be implemented that take these factors such as congestion, detours, construction, severe weather, or road closures into consideration.
This greatly enhances the ability of drivers to get to their destinations on time and get the job done in a timely fashion. Additional GPS features that help maintenance personnel keep streets clean during hurricane season include:
Geofencing
Geofencing makes locating, and monitoring, every vehicle in the fleet easier by establishing virtual perimeters. Reports/alerts are sent to fleet managers whenever a vehicle enters or exits the Geofence. Vehicle overlaps are easily remedied.
Driver Performance Safety Reporting, and In-Vehicle Audible Alerts
Driver behavior contributes to a high percentage of at-fault accidents, and can significantly increase fuel consumption. GPS fleet tracking can provide insight into driver behavior that is dangerous, expensive, or unnecessary. These behaviors include:
Speeding
After hours' vehicle use
Sharp cornering
Seatbelt use
Braking habits
Over accelerating
Excessive idling
Route Optimization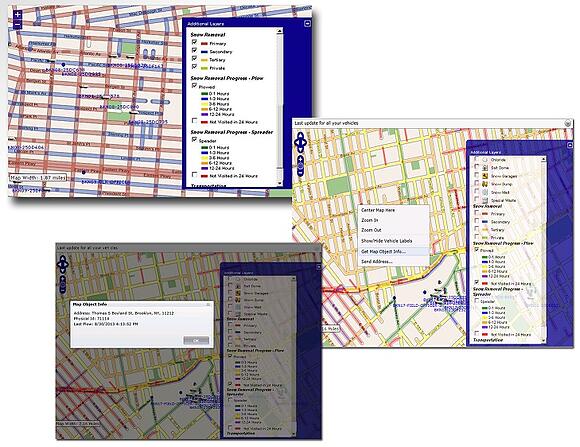 Keeping streets clean during hurricane season requires fleet managers to confirm that every street in the service area has been thoroughly covered. GPS route optimization tools such as StreetComplete are particularly useful for this task.
Some jobs, such as street cleaning, require repeated applications during severe weather conditions. The StreetComplete software works by establishing timelines of coverage and applying a visual color reference to a digital map. A street that has just been cleaned will be designated with a specific color set by the user (typically green). Over time, the mark will change color to match the colors the user has set for different time ranges.
Users can set the designated colors and timeframes to their street cleaning requirements, such as once a day, twice a day, once a week, or any other service schedule. Fleet managers can be fully apprised at all times of when each street in their service was last cleaned and when the next cleaning day and time is scheduled.
For example, a freshly-cleaned road could be colored green on the map, a road that hasn't been serviced in 12 hours could be colored yellow, a road that hasn't been serviced in 24 hours colored orange, and a road that hasn't been cleaned in over 2 days could be colored red to indicate a road that needs immediate service.
Emergency Response
During hurricane season, keeping streets clean may require a rapid response as roads may be disrupted by fallen trees, rocks, or other debris. Street cleaning may need to be done more often as weather elements continue to produce windy and wet milieus. Specific GPS features help street cleaners respond to emergency situations that may arise in the event of a hurricane. These are:
In-Vehicle Navigation
Dispatchers can relay address information immediately to drivers who have access to in-vehicle navigation features. Features, including maps, turn-by-turn guidance displays, or maneuver lists enhance driver response and job completion time.
Dispatch
Fleet management software allows fleet managers to know the precise location of every vehicle in the fleet, and this gives them the ability to identify the closest vehicle to a specific address. This feature speeds up the response time, and also allows dispatchers to quickly reroute vehicles in the field when necessary.
Successful road cleaning industries use GPS tracking to keep streets clean during hurricane season. Without it, businesses and municipalities might not know where they are going, or how to get there.
Like what you're reading? Subscribe to our blog.
Get our latest posts straight to you inbox.