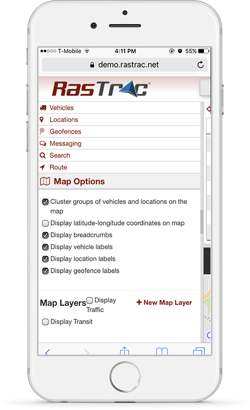 This year, a variety of new and advanced smartphones and mobile devices are hitting the market for consumers around the world to enjoy. As such, users will be able to enjoy the ease of use and convenience that mobile technology allows for a variety of functions ranging from communicating with friends and networking to exercise and wellness to professional development and professional solutions to improve work.
You may be wondering why GPS tracking and fleet management solutions should be any different than these other apps, or if they may get left behind altogether. Happily, we're here to say that they're not. As mobile technology expands, so do the capabilities and reach of GPS fleet management systems. Rastrac recognized the financial constraints of small and mid-sized business (SMB) owners and the growing need for a reliable, intuitive, and useful fleet management mobile app.
If you aren't planning to invest in a new smartphone, that's okay. Users with older model smartphones and mobile devices — so long as they are capable of running iOS and Android software and have GPS tracking capabilities — can still take advantage of mobile technology to meet their vehicle tracking system and fleet management needs.
A Pocket Fleet Management Solution for People On-the-Go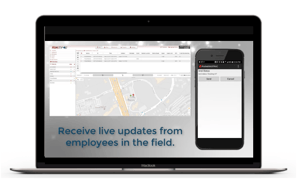 PocketRastrac harnesses the powerful capabilities of GPS tracking on the Android device, iPhone, or iPad technology your employees use every day. The fleet management mobile app essentially turns a smartphone into a convenient GPS tracking device that is capable of secure, two-way messaging. Furthermore, the app allows you to track family members, employees, team members, vehicles, or other mobile assets with ease without the cost of purchasing GPS device hardware.
If you want to communicate with your employees in the field while tracking their positions, PocketRastrac and Live Tracking enable you to do so in real time. Employees can send pre-programmed statuses (such as "Clock In" or "Start Lunch") and form tailored messages, as well as send plain text messages that they type to keep you in the loop concerning anything going on in the field. Should a vehicle blow a tire in the field, your driver can simply send a message and you can quickly respond without ever having to pick up a phone or CB handset.
Streamlined GPS Tracking Software at Your Fingertips
There are many advantages to using PocketRastrac. Rastrac's GPS fleet management software can track a wealth of information via the fleet management mobile app. The app is capable of tracking:
Real-time locations via exact GPS coordinates

Start and stop times of routes

Travel times and the number of stops made during a trip

Driver information, including travel speeds and turns

Route data

Mobile device battery life

Whether the mobile device is active or is deactivated

Altitude data and related information


Odometer readings and total mileage per trip
For fleet managers and employees who are concerned about any risk to employee privacy, you can rest assured knowing that the vehicle tracking system app can be set to only report during work hours. This functional feature allows you to avoid the threat of "spying" on your employees while they are off the clock. Learn more about our GPS tracking privacy policy for PocketRastrac and PocketRastrac Lite.
Rastrac is a GPS tracking and fleet management industry leader and has been building loyalty and trust with clients worldwide since 1993. We are proud to say that our team tracks more than $1.5 billion in assets for our clients across numerous industries in a wide range of vehicles and equipment assets.
With Rastrac, you virtually never have to worry about equipment or software downtime. Our team of full-time developers and equipment experts has designed our software and applications to be feature-rich, trustworthy, and reliable with a 99.99% uptime record. We focus on continuously evolving and adapting our technology to the changing fleet management landscape to ensure that our customers will always have the latest solutions with relevant software updates and upgrades.
Learn more about how you can increase fleet efficiency with GPS tracking solutions. Download our free eBook now by clicking on the image below.
Like what you're reading? Subscribe to our blog.
Get our latest posts straight to you inbox.